Yahoo's Assets: What Marissa Mayer Will Be Working With
An overview of the new CEO's expansive new domain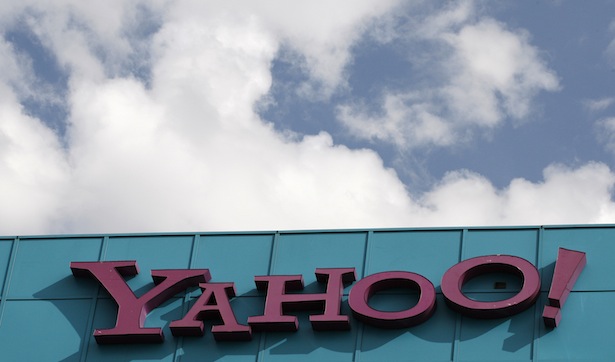 Reuters
In a surprise move today, Yahoo announced that, starting tomorrow, it'll have a new CEO. And that CEO will be none other than erstwhile Googler Marissa Mayer.
To paraphrase many people's reactions to this news, in general chronological order:
1. What?
2. Why?
3. Why not?
And though we don't yet know why Mayer is leaving Google for the colder climes of Yahoo, what we do know is that Mayer will have a lot to work with in her new job. Like, a lot. Yahoo may be in need of some direction; it has, however, a fairly mind-boggling array of assets. And that's not even counting the firm's insistently ubiquitous exclamation mark, which will be catalogued below. Yahoo is one of the few Silicon Valley firms -- and, in fact, one of the few national firms -- big enough to have a disruptive effect on the current tech infrastructure, in the Valley and elsewhere. Which means that Mayer may be in a position not just to buck cultural trends, but also to do something real and interesting with the company. Exclamation point.
Among the firm's assets, per Yahoo's latest annual report:
Communications and Communities:
Yahoo! Mail; Yahoo! Messenger; Yahoo! Groups; Yahoo! Answers; Flickr; Connected TV; and social properties tailored to users in specific international markets, including sites like Wretch in Taiwan and Meme in Argentina, Brazil, Mexico, Taiwan, Indonesia, India, and the Philippines.
Search:
Yahoo! Search, including sponsored search results; and Yahoo! Local, which offers users local and hyperlocal news, business listings, events, and deals and is tightly integrated with Yahoo! Maps. "We generate revenue," the report explains, "from listing fees and premium location targeted display advertising."
Marketplaces:
Yahoo! Shopping; Yahoo! Travel; Yahoo! Real Estate; Yahoo! Autos; and Yahoo! Small Business.
"On these properties," Yahoo! explains, "users can research specific topics, products, services or areas of interest by reviewing and exchanging information, obtaining contact details or considering offers from providers of goods, providers of services, or parties with similar interests. We generate revenue from listing fees, transaction fees, and display and search advertising on many of these properties, as well as from the subscription fees that we charge for hosting Websites for our customers, fees that we charge for registering domains, and fees that we charge for services we provide to small businesses seeking to maintain a Website. We also have properties tailored to users in specific international markets, primarily our Asian markets, which allow prospective buyers and sellers to enter into an online auction for goods for which we earn a posting and transaction fee."
Media Assets:
Yahoo! Homepage, a "navigation hub and starting point for entering into Yahoo! Properties and the Internet, via a PC or mobile device"; Yahoo! News, which "provides stories from the major news agencies that are aggregated by our editorial team and augmented by in-house generated content focused on up-to-the-minute news coverage with video, text, photos, and audio"; Yahoo! Sports, which "offers free fantasy games, original editorial content, real-time statistics, scores and game updates, broadcast programming, integrated shopping, online sports communities, and mobile appls like Yahoo! Fantasy Football"; Yahoo! Finance, which "provides a comprehensive set of financial data, information, and tools that helps users make informed financial decisions, and includes MarketDash, a mobile app"; My Yahoo!, a "personalized start page that gives registered users the ability to customize their pages with information that interests them most from around the Web"; Yahoo! Toolbar, "a Web browser add-on that conveniently enables users to access and preview"; Yahoo! Properties; Yahoo! Entertainment & Lifestyles; Yahoo! Movies; Yahoo! Music; Yahoo! Games; and Yahoo! TV, including the recap program "Prime Time in No Time," which "provides quick recaps of the previous evening's prime time television shows."
Media assets also include Yahoo! Health; Yahoo! Education; Yahoo! Weather; celebrity news site omg!; women's lifestyle site Shine; Livestand from Yahoo!, "a personalized living magazine application for the iPad that Yahoo! launched in November 2011"; and original content sites like Yahoo! Scene (Entertainment), In the Money (Finance), Yahoo! Today (homepage), Shine from Yahoo! (women's lifestyles), and The Thread (Fashion). There's also the mobile app IntoNow, which "makes watching TV more engaging, social, and fun" by personalizing viewing recommendations and enabling discussions with friends; and, finally, the Yahoo! Contributor Network, "a platform allowing users to publish their creative content on Yahoo!" and which "we expect will bring contributions from writers, photographers, and videographers to the Internet's largest media destinations, including Yahoo! News, Yahoo! Finance, Yahoo! Sports, and even the Yahoo! Homepage."
Yahoo! also has distribution partnerships with close to 100 carriers, original equipment manufacturers, and publishers around the world.
Developer Tools and Platform Offerings:
Yahoo! Developer Network, which aims "to be the hub for the digital media developer community"; Yahoo! APIs, tools, documentation, support, and resources; Cocktails, Yahoo!'s development platform (made up of Yahoo!'s Mojito and Yahoo!'s Manhattan) for connected devices, which offers a "cross-platform programming environment allows a new class of multi-screen applications with native-like performance"; and Yahoo! User Interface, "a free, open source JavaScript and CSS framework for building richly interactive Web applications."
Trademarks:
Yahoo! Inc. and its subsidiaries referred to herein include, but are not limited to, Yahoo!, Y!, IntoNow, interclick, Livestand, Flickr, Right Media, omg!, Shine, Sportacular, Prime Time in No Time, Behind Enemy Lines, Ready Set Dance, Yahoo! Search BOSS, Wretch, Meme from Yahoo!, Citizen Sports, Associated Content and their respective logos
Physical Assets:
Yahoo! has offices in more than 30 countries, regions, and territories.
Employees:
Yahoo! had approximately 14,100 full-time employees as of the end of 2011. (It has many fewer, alas, at the present moment.) "Our future success is substantially dependent on the performance of our senior management and key technical personnel," the report notes, "as well as our continuing ability to attract, maintain the caliber of, and retain highly qualified technical, executive, and managerial personnel."
Today, it doubled down on that ability. Enter Mayer.