What the Internet Wants From Marissa Mayer, in Five Words
Actually, one word: "Flickr"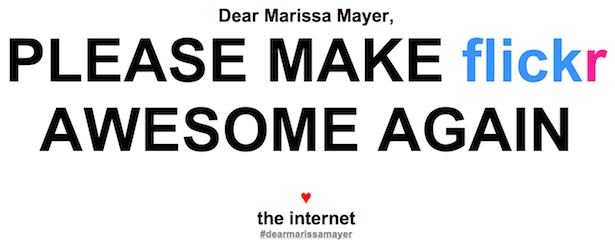 dearmarissamayer.com
Earlier this year, in a brilliant, eviscerating, and really sort of heartbreaking essay, Mat Honan told the tale of "How Yahoo Killed Flickr and Lost the Internet."
The photo service that was once poised to take on the the world has now become an afterthought. Want to share photos on the Web? That's what Facebook is for. Want to look at the pictures your friends are snapping on the go? Fire up Instagram.

Even the notion of Flickr as an archive--as the place where you store all your photos as a backup--is becoming increasingly quaint as Dropbox, Microsoft, Google, Box.net, Amazon, Apple, and a host of others scramble to serve online gigs to our hungry desktops.

The site that once had the best social tools, the most vibrant userbase, and toppest-notch storage is rapidly passing into the irrelevance of abandonment. Its once bustling community now feels like an exurban neighborhood rocked by a housing crisis. Yards gone to seed. Rusting bikes in the front yard. Tattered flags. At address, after address, after address, no one is home.
As an epilogue, and as an elegy, Honan's piece was powerful in part because of how familiar it felt: The commercial subsuming the communal is not a new story. For Yahoo, though, a new CEO means a new chance to turn things around -- not just for its business, but for its users. And though Marissa Mayer, Yahoo CEO as of a couple of hours ago, will start her new job with a lengthy to-do list ... the Internet has a suggestion for what she might put at the top of her agenda.

And that is: Fix Flickr. Or, more specifically, MAKE FLICKR AWESOME AGAIN.
Making that request is dearmarissamayer -- the website, and the hashtag.
And, actually! It's a request that may well align with Mayer's own desires for her tenure as CEO. "My focus at Google has been to deliver great end-user experiences, to delight and inspire our end users," Mayer notes. "That is what I plan to do at Yahoo, give the end user something valuable and delightful that makes them want to come to Yahoo every day."
And you know what was valuable and delightful and kept people coming back for more? Yep: Flickr.