Tuning Out the World: An American Dream Since (at Least) 1931
We've long been seeking the device that would let us listen to the sound of silence.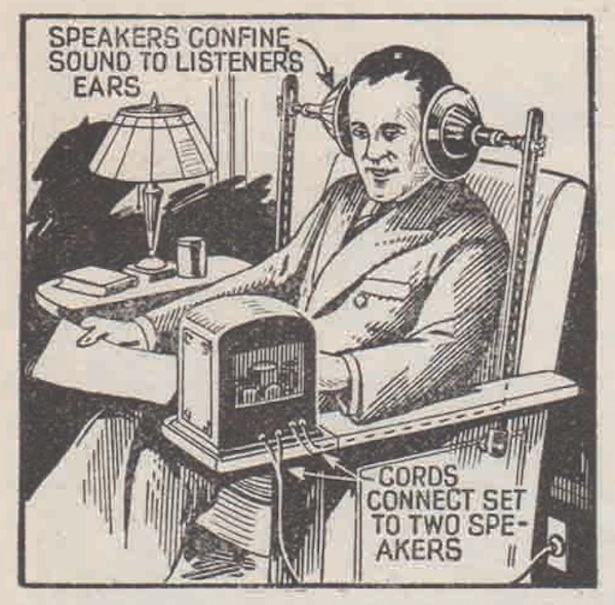 The contraption above is not a medical implement, nor is it some kind of Depression-era torture device. It is an early, La-Z-Boy-like version of the noise-canceling headphone.
In 1931, as radio was growing in popularity, the inventor Thaddeus Cahill began experimenting with ways to capture the medium for individual listeners. He wanted to make radio not a communal experience, but a private one. His solution was a chair that integrated sound generation and sound consumption into a single piece of furniture: a radio-and-headphones combo that would allow for "individual-ear reproduction" of radio recordings.
In 1931, Cahill applied for a patent of the device.
The creation -- granted its patent a year after Cahill died, in 1934 -- offers a nice suggestion of the speed with which our inventional impulses turn toward individuality. In the early 1930s, radio was just becoming a communal thing. The adoption of the Audion tube was for the first time allowing for the amplification of radio waves -- meaning that, for the first time, radio was becoming a collective entertainment. This was the era of the radio serial and the Fireside Chat; it was the age that found families and friends gathered around the machines that connected them, through sound, to the rest of the world.
And yet here was Cahill, looking for ways to re-individualize that sound -- to re-appropriate that medium for personal consumption. He wanted to make radio an intimate experience. We tend to think of the earbud effect as a relatively new phenomenon -- as something that, in its impulse toward insulation and isolation, is quintessentially contemporary. As Derek Thompson has pointed out, however, the personal listening experience -- sound rendered intimate and private -- has been a technological ambition for more than a century. And Cahill's invention is a reminder of that dream's endurance. As soon as we were able to commodify sound, we set our sights on something else: the sound of silence.
Via Matt Novak