This Is Your Brain on a Sweater
London fashion designer Brooke Roberts uses Photoshop and a textile-design software program to knit medical images into high fashion.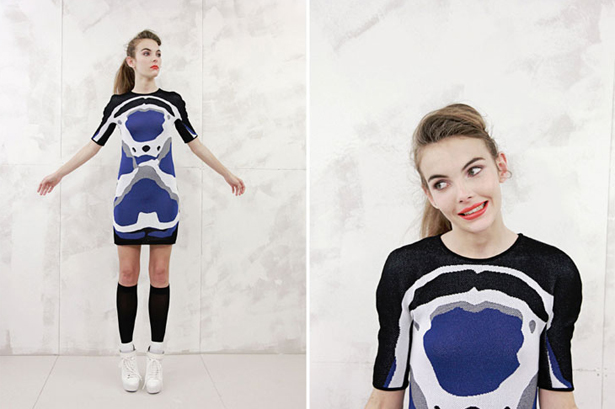 The history of textile art is the story of images from nature -- particularly flowers, but also birds, animals, and other plants -- being dyed, woven, or embroidered onto fibers. Beautiful fabrics preserved across centuries from China, the Middle East, and Europe show that the natural world was a constant inspiration.
Perhaps this is unsurprising. But now there is a novel twist on this old instinct: The scope of visible nature has exploded, and patterns and objects once unseen can now be printed, painted, woven, stitched, just as flowers have been for so long.
Thus: Brain sweaters, the work of London-based fashion designer and radiographer Brooke Roberts. Also, pelvis sweaters: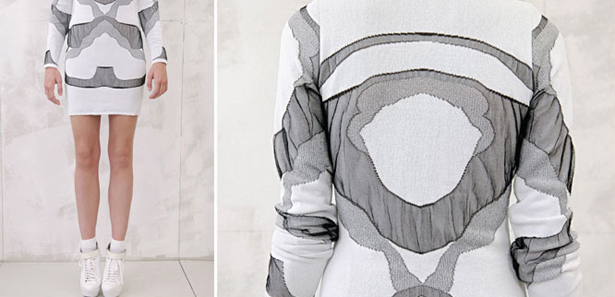 Roberts uses Photoshop and a textile-design software program called Eneas to convert CT scans and MRIs into patterns for knitting machines, which then make sweaters, dresses, skirts, etc. out of cotton, wool, and other fibers, according to an interview on Stylenik. She explains:
I use CAD to develop the images aesthetically, then Eneas to assign a yarn selection to each pixel in the digital image (each pixel represents a stitch). I work on a variety of machines from very fine gauge (to create thin, light-weight knits) to large gauge (chunkier, heavier knits). I use a vast range of yarns and gravitate towards unconventional combinations, like camel hair mixed with 3M retro-reflective yarn, or bio-ceramic mixed with wool and elastic. I like to create unusual yarn mixes to compound the natural yet technical aspect of combining science and fashion.
The resulting abstract, geometric quality belies the origins: These images may take more technology to capture than your centuries-old roses and lilies, but the objects they represent are just as concrete, just as real.