The Time Miles Davis Stole (or Borrowed) a Song&#151and How It Ended Up on His Tombstone
Even a recording by the original artist couldn't stop him from pulling off the heist.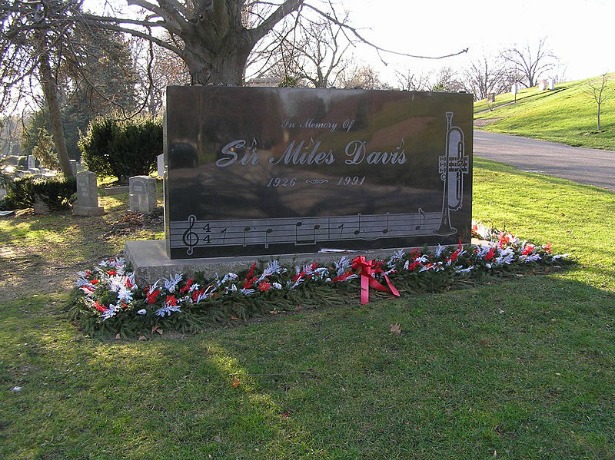 Wikimedia Commons/Anthony22
Not all copyright theft involves dingy dorm rooms or street stalls. Here's a parable about when jazz, celebrity, and recording technology colluded to steal a song and etch the theft in stone.
In 1946, the jazz guitarist Chuck Wayne led a little jam session in Oklahoma City. The trumpeter Sonny Berman played in the session, too; maybe in honor of him, the band played a song Wayne had written on top of the harmony to "How High the Moon," called "Sonny."
The song then disappears from the fossil record. But eight years later, Miles Davis records a nearly identical song on his 1954 album Walkin', in a studio in Hackensack, NJ. That song, called Solar, shares the exact same melody and all but one chord change with Sonny. And it's that song which gets copyrighted in 1963 (seventeen years after the jam session) and that song which gets engraved on Davis' tombstone (photographed above).
This story comes from Larry Appelbaum, a senior music archivist for the Library of Congress, who supplies the recordings, photos and context over at his blog. According to the pianist Ethan Iverson, some musicians had known for years that Solar wasn't Davis's, but recorded confirmation only emerged when Diane Wayne, Chuck Wayne's widow, donated his collection to the Library of Congress last year.
Notice how this whole story -- from the jam session cut to the success of Walkin' to the very very filing for copyright -- depends on physical things, even in a system meant to triumph over them. A recording of the session was made, but it was never distributed, so Davis's title and chord change proliferated. The mechanism of copyright, as an idea, (could, maybe, sometimes) reward first authors, but because no one on Wayne's side wrote certain things down on certain pieces of paper and gave those papers to the right people, copyright went to Davis. And we're only able to piece this whole story together now because a widow chose to give away some boxes, and someone knowledgeable sifted through one of them. Despite an entire structure built to treat songs and protection not as physical things, but as ideas, the physical triumphed throughout this whole process.
But another kind of physicality's at play, too. At his blog Jazzwax, the critic Marc Myers imagines:
In the music business of the 1950s--and today, to a large extent--the person who plants the flag by filing the legal papers is credited with writing the song. And who knows how Davis came to the melody line in the first place. For all we know, Wayne was whistling it in the men's room at Birdland while Davis was in there washing up.
Or Davis might've heard fragments of the melody in someone's improvised solo, someone who'd played with Wayne two years before. Or a drummer appropriated Wayne's rhythm, soloed with it over another song written to How High the Moon changes, and Davis heard a recording of that solo. Who knows: jazz springs from dialogue and creative borrowing. What matters here is the physicality of sound itself, that it's both physical and ephemeral. You can record music, you can transcribe it, but it lives only when it's mechanically played or artistically interpreted, and afterward, no inherent record of that performance exists. How did the song seep from Oklahoma City in 1946 to Hackensack in 1954? We don't know -- but jazz, recording technology, and even the chutzpah of Davis's celebrity all provide clues.