The Technology of the Campaign Trail in 1988
A dispatch from the time of Watchman TVs and other hot nerd accessories.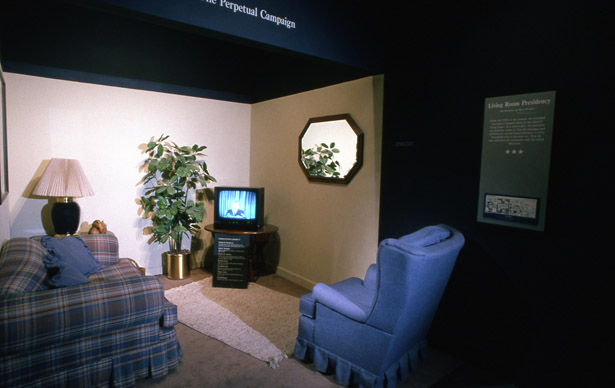 The Smithsonian's exhibit on the '88 election: The Perpetual Campaign (Smithsonian).
Deep in GQ's archives, there's a rich story penned by Alessandra Stanley and Maureen Dowd about the changes to political reporting between 1972 and 1988. Interesting for all sorts of reasons, it contains one stunning scenesetting paragraph that conveys the cutting edge technology of the day in brand-name detail.
Campaign, 1988. The Olivettis are long gone. The trail is high-tech, a Silicon Valley on wheels. On any given campaign, on any given morning, the bus hums with the tap-tap-tap of eager fingers typing on briefcase-size lap-top computers. Reporters wearing Walkman-style earphones hunch over their notebooks transcribing tapes. Occasionally a voice interrupts the silence to ask querulously, "Did you get what Dukakis said about integrated pest management?" Or, "Did Bush say 'naughty stuff' or 'the naughty stuff'?" Others underline The New York Times in red ink or murmur into cellular phones to their editors about the day's schedule. Some tune in to the morning news shows on their Watchman TVs. When the bus stops at a new and strange city, the reporters race off. They aren't scouting for the best steak house in town. En masse, they swarm toward the nearest Radio Shack outlet. You never know when you may need more AA batteries.

Walkman-style earphones! Briefcase-size lap-top computers! Cellular phones! Watchman TVs! The mobile reporter of 1988 had already been turned into a gadget-addicted nerd. And to think I thought that only happened when the Internet came along.