The Smartphone Replacement Index
Smartphones are disrupting: watches, laptops, cameras, diaries, alarm clocks ...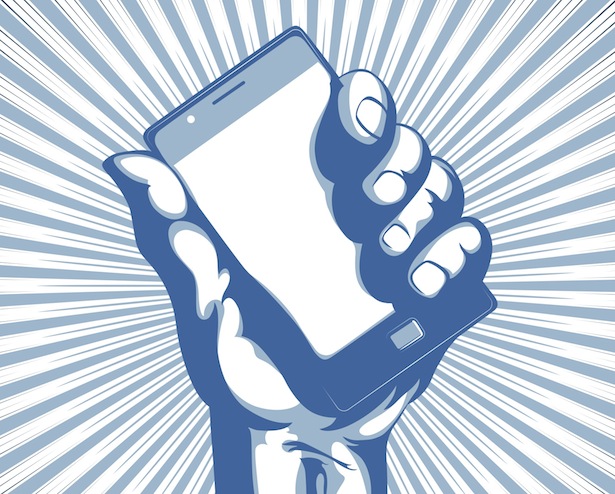 It used to be that we had dedicated devices for our various communications and entertainment and lifestyle needs. Want to call someone? Use a telephone. Want to go online? Use a laptop. Want to watch a TV show? Use a TV. Etc.
The smartphone, however, is changing all that -- and changing our assumptions about the purpose of a gadget in the first place. O2, the same network that documented the phone call's fifth-most-popular ranking among smartphone functions, also conducted research into the non-phone-y uses of the smartphone. What it found was a Swiss Army effect: people are using their smartphones not just as phones, and not even just as portable Internet cafes, but also as diaries and watches and cameras and alarm clocks and libraries and personal movie theaters. Dedicated-use devices are being replaced by the one device that can -- to an extent -- have it all.
Among the smartphone users surveyed in O2's research:
More than half (54%) say they use their phones in place of an alarm clock
Almost half (46%) have dispensed with a watch in favor of using their smartphone
Two-in-five (39%) have switched to use their phone instead of a separate camera
More than one quarter use their phone instead of a laptop (28%)
One in ten have replaced a games console in favor of their handset (11%)
Perhaps indicative of where things are moving, one in twenty smartphone users have switched to use their phone in place of a TV (6%) or reading physical books (6%)
And here's the breakdown of the most popular phone functions, according to the percentage of users who say they engage in them: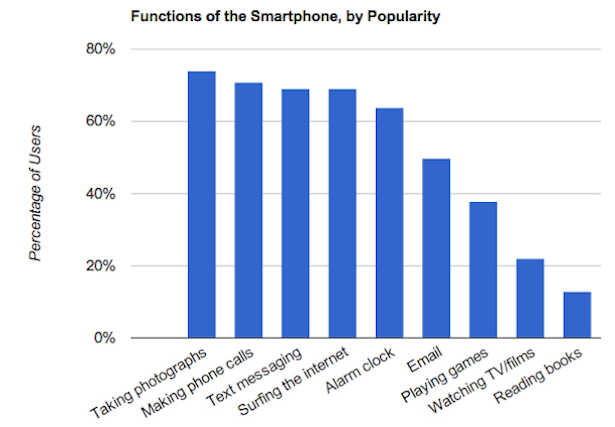 What's notable here is both the diversity of functionality and the lack of it: people are using their phones for lots of different activities, but in almost identical percentages. There's not just one use of a smartphone; there are lots of little uses -- and they are all, on some level, equal. This is, in part, why the iPhone and its counterparts have proven so disruptive. Our assumptions of a one-use-one-device landscape -- complete with TV and book and DVD player and computer and clock and arcade -- are being themselves disrupted by a different assumption: of the singular device. The one-size-fits-all device. The device that, because it needs to be portable, also needs to be multi-purpose.