The Real iPod: Elon Musk's Wild Idea for a 'Jetson Tunnel' from S.F. to L.A.
The inventor wants to find the fifth dimension ... of transportation.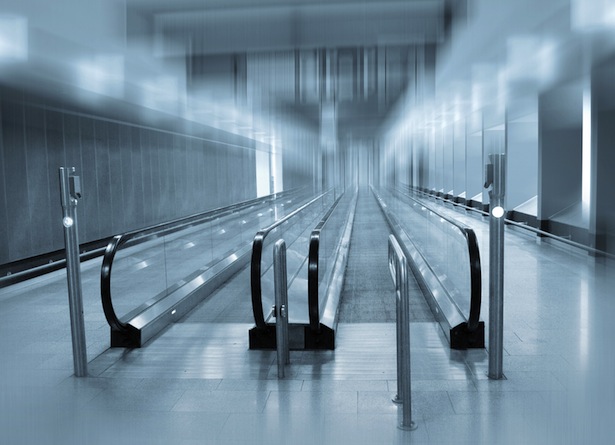 Trains are slow. Planes are unwieldy. Cars are, er, pedestrian. What if there were another way -- a better way -- for people to travel over long distances?
Elon Musk, he of PayPal, Tesla, and SpaceX fame, thinks he has that way. And it is a notional vehicle that can carry people between Los Angeles and San Francisco ... in 30 minutes flat.
He calls it "the Hyperloop."
"We have planes, trains, automobiles and boats," Musk told Sarah Lacey at a PandoDaily event in L.A. So: "What if there was a fifth mode?"
So, wait. Would this be "something like a Jetsons tunnel, you just get in and it whisks you away?" Lacey asked.
And you know what? Yes! Yes, it would!
The Hyperloop would be three or four times faster than a bullet train, Musk said, and twice as fast as an airplane. It would be powered by solar panels. It would be "immune to weather." It would be unable to crash.
Per Business Insider's transcript of the PandoDaily event:
This system I have in mind, how would you like something that can never crash, is immune to weather, it goes 3 or 4 times faster than the bullet train... it goes an average speed of twice what an aircraft would do. You would go from downtown LA to downtown San Francisco in under 30 minutes. It would cost you much less than an air ticket than any other mode of transport. I think we could actually make it self-powering if you put solar panels on it, you generate more power than you would consume in the system. There's a way to store the power so it would run 24/7 without using batteries. Yes, this is possible, absolutely.
Well, first of all: YES, PLEASE. Second of all, though: What? A cheap, faster-than-a-plane, weather-immune, crash-impervious people-mover? There's a pretty good reason we can't travel between LA and SF in 30 minutes, which is that we can't travel between LA and SF in 30 minutes. The challenges here are enormous. And what would the Hyperloop actually look like? Google's geektastic monorail capsules? A tunnel? A pod? A series of pods?
Those questions are for later, though. For now, it's the idea that counts. Musk might patent the Hyperloop concept, he said, and then open up its implementation to "anyone who can make a credible case that they can do it." So the Hyperloop really could be anything. [Though: fingers crossed for a series of pods.] Then again, Musk has a pretty great track record of turning the whimsical into the actual -- and of, in general, saying nay to the naysayers. SpaceX and Tesla and even PayPal are testaments to what can happen when you encounter limitations and -- quickly! cheaply! easily! -- whisk them away.