The Power of Internet Censorship, in 1 Chart
Sometime late in the evening of July 28, Twitter suspended the account of journalist and NBC naysayer Guy Adams. Earlier today, with apologies from Twitter's lawyer to Adams, the service reinstated his account.
There are many lessons to be learned from this brief affair. But here is one of them: The suspension of Adams's account, ultimately, wasn't much of a suspension. It amplified Adams's message rather than minimizing it. Here is a Topsy chart of the discussion surrounding the account of journalist and NBC naysayer Guy Adams as it played out over the past week.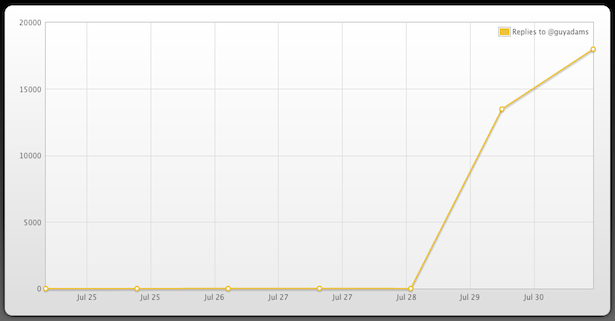 Flat-flat-flat-BOOM!
So whether, in suspending Adams's account, Twitter was trying to silence a critic of (its media partner) NBC or ... something else, the noisy growth of the "silenced" @guyadams is a nice reminder: In a networked world -- in a world that empowers users not only as subjects, but also as objects of discussion -- true suspension is much harder to achieve than it used to be. Each user carries with him or her a community of other people -- people who are not just fellow users, but also latent speakers of speech. Those people will make noise.
Adams's situation, of course, as a matter of "censorship," is both unique and mild. This is not China. This is not Syria. This is a tuxedo-clad journalist based in LA. Still, though, his case is reassuringly indicative: On the Internet, noise comes much more easily than silence.