Such is Turing's legacy: that of a nested chain of pretenses, each pointing not to reality, but to the caricature of another idea, device, individual, or concept.
It's hard to overestimate Alan Turing's contributions to contemporary civilization. To mathematics, he contributed one of two nearly simultaneous proofs about the limits of first-order logic. In cryptography he devised an electromechanical device that decoded German Enigma machine's signals during World War II, an accomplishment that should also be counted as a contribution to twentieth century warfare and politics. In computer science, he developed a theory of universal computation and an associated architectural design that forms the foundation for the computer on which you are now reading. His take on machine intelligence has been influential in both the philosophy of mind and as the foundation of the field of artificial intelligence. And his prosecution for homosexuality, along with his apparent resulting suicide has offered a pertinent reminder of one of the remaining barriers to social justice and equity.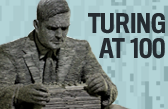 A celebration of the life and work of the pioneering computer scientist
See full coverage
This year, the centennial of Turing's birth, we rightly celebrate Turing's life and accomplishments, the impact of which is difficult to measure sufficiently. But as we do so, we should also take a lesson from the major cultural figure whose centennial we marked last year: Marshall McLuhan. McLuhan teaches us to look beyond the content and application of inventions and discoveries in search of their structures, the logics that motivate them. For McLuhan, television was a collective nervous system pervading every sense, not a dead device for entertainment, education, or moral corruption.