The Bubble Telescope: 'We're Positioning Salon as an Upscale AOL'
A look back at the press releases of the Internet's first bubble. Just to remind you. In today's installment, we look at a 1999 press release from Salon touting the WELL, which it recently put on the market.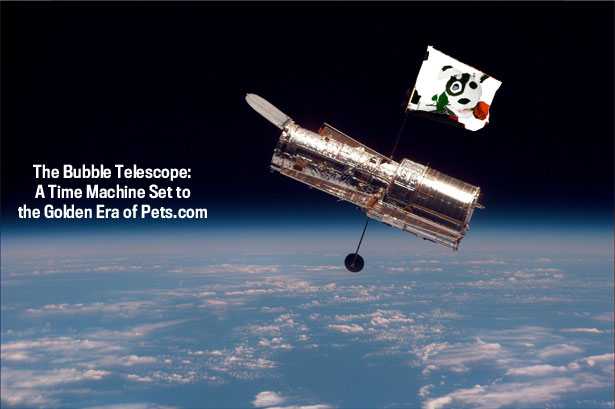 SAUSALITO, CA -- The WELL, a pioneering online discussion community in its 14th year of operation, was acquired last week by Salon.com, publisher of the online SALON MAGAZINE.
The WELL, founded in April 1985 by WHOLE EARTH CATALOG publisher Stewart Brand and technologist Larry Brilliant, has hosted a wide variety of conferences including Howard Rheingold's MIND conference, ART COM ELECTRONIC NETWORK which began on the WELL in 1986, and THE ELECTRONIC FREEDOM FRONTIER CONFERENCE.
Bruce Katz, who was the founder of Rockport Shoes, purchased The WELL in 1994.
"The Well is a welcome addition to Salon.com, not only because of its illustrious history but because of its business model," said Michael O'Donnell, Salon's president and publisher, "As a paid subscription business, The Well will provide Salon with new revenue sources, in addition to our advertising, e-commerce and syndication business. We look forward to the opportunity to marketing The Well to our existing audience and adding further resources toward growing The Well's membership."
CBS MARKETWATCH reports that O'Donnell also said: "We're positioning Salon as an upscale AOL."
"AOL users are accustomed to targeted advertising, and the Well's members would be offended, perhaps even chased away, by it," Rebecca Lynn Eisenberg writes on CBS MarketWatch. "The Well has explicitly, purposefully provided its membership an alternative to consumerist communities like AOL, and transforming the Well into an 'upscale AOL' would, in fact, destroy for many (if not most) members the very value that they purchase for $10-15/month. And, because those monthly membership fees constitute the sole way that the Well presently makes money, the company cannot afford to chase its membership away."
However, reaction so far in the WELL NEWS conference has been fairly favorable. Many WELL members knew that WELL was going to be sold and feel that because Salon has WELL ties, Salon will have some idea of what the WELL is about. Negative reaction has centered on O'Donnell's characterization of Salon as "an upscale AOL"; concern about Salon's print publishing model, concern about Salon's banner ad driven model, and concern about WELL conferencing being a source of free content for Salon.