Sorry, Kids, Olympic Athletes Did Not Cause Grindr to Crash
Yes, the Olympics athletes are all arriving in London. And, yes, Grindr crashed. But sadly, correlation does not imply causation.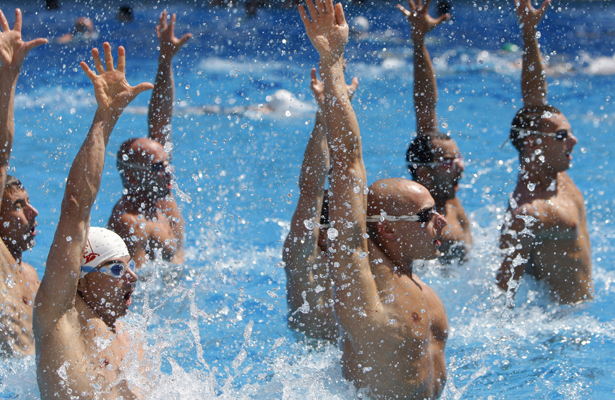 Whoa! Did you hear? Lots of athletes are arriving in London! And many of them are gay! And Grindr, the app that facilitates gay hook-ups, crashed! Therefore: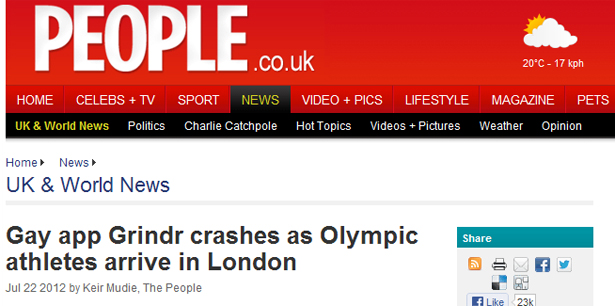 As the "article" reports:
A gay dating website crashed within minutes of the first Olympic athletes arriving in London - due to the volume of demand, say experts.

The Grindr app enables gay men to obtain the locations of potential homosexual partners.

Technicians believe the arrival of Olympic teams on Monday sparked a flood of new customers - and loss of the service in East London.

One Londoner said: "It happened almost as soon as the teams got here. Either loads of athletes were logging on to meet fellow Olympians or were looking to bag a local.

"The Grindr system obviously couldn't cope. It took 24 hours for the app to get back up and running, much to the relief of all concerned."
Sadly, too good to be true!
Here's what Grindr said to me, via email:
While we'd love to believe that the best-built men in the world all dressed up in Lycra and congregating in one place can generate a huge increase in Grindr traffic, we can say with confidence that the arrival of the Olympic teams had little or no effect on our server. The truth is that there are many factors that cause a technological service disruption.
Grindr did crash in recent days, and the People UK story quoted from a Grindr blog post about the crash, but the post never actually mentions the Olympics or, you know, any relationship between the two events. Which is good, because, phew, we want those hard-working athletes to enjoy themselves in London!