Russia Passes Law That Will Create a Blacklist for Websites
Critics contend that the law's reach will go far beyond the child-pornography and suicide-promotion sites it is intended to shutter.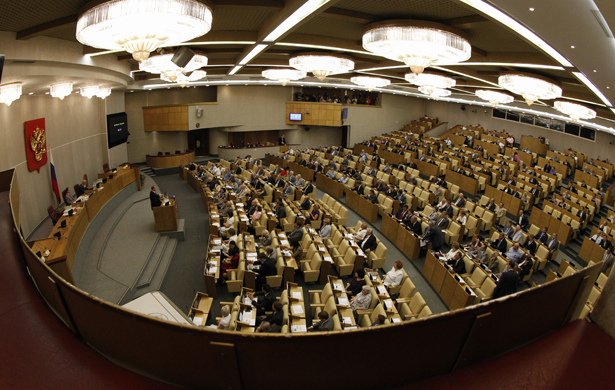 Reuters
A day after massive online protests, including a temporary shut-down of the Russian-language Wikipedia, the State Duma has today gone ahead and passed the Information Act by a wide margin, with 441 of 450 members of the legislative body voting in support of it, according to the Washington Post. Though the law was amended at the last minute to be more explicit as to the reasons sites could be banned -- and reasons such as child pornography, the promotion of substance abuse and suicide -- critics say that expansive interpretation by the courts could leave many legitimate websites in peril.
According to the Post, activists see the law as one in a set designed to repress political activity and dissent against the Putin regime. Kathy Lally writes:
Last month, the Duma passed a law drastically raising fines for protesters who violate the rules for holding a demonstration. On Wednesday, it advanced a bill that would make slander a criminal offense, with a penalty of as much as the annual income of the offender. And it is expected to pass a law this week requiring nongovernmental organizations that do political work and get money from abroad to register as foreign agents.

"Many of us are now in danger," said Oleg Kozyrev, an influential blogger. "I see this Internet law as part of a package of repressive laws directed at the opposition and human rights and civil rights activists."

Under the new law, he said, a commenter could post a link to child pornography on a blogger's page, for example, and the government would have the authority to close down the entire page. The page would remain closed while its owner attempted to prove he was not responsible for the illegal reference. "There is little hope that the courts or investigators will be objective," Kozyrev said.
In other countries where websites like Wikipedia and major search engines threw their arms up against a proposed Internet-regulation law (as in Italy last fall and here in the U.S. in January), the proposed bills stalled in response. The Russia example is a demonstration of the futility of such tactics when the legislative organs of a country support a de facto autocracy.