Rich and Interesting Reading: 'Slow Web' and 'Neo-Victorian Computing'
I am not even going to try to summarize the online essays I'm about to refer you to.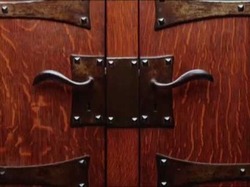 But I will say that if you are interested in technology, and thought, and the relationship between the two, and the ways our machines are changing us for better and worse, you will be very glad to have come across these writings. (
Illustration
is of a chest by the American Craftsman designer
Gustav Stickley
, for reasons that will become clearer below.)
You could start with Jack Cheng's recent essay on "The Slow Web." I am not sure that the iDoneThis service he talks about would mean as much to me as it has for him, but certainly he makes me want to try it, and to think about its creators' manifesto. And when he says that Instapaper epitomizes what he means by Slow Web potential, I recognize its transformative effect.
Then you could read a related, short piece posted yesterday on But She's a Girl, about the phenomenon of "crafted software."
The natural destination from that would be a long, rich set of essays over the previous few years on the concept of Neo-Victorian Computing. These are by Mark Bernstein, a familiar figure here including from his days as guest blogger. In his day job he is head of Eastgate Systems in Boston and creator of Tinderbox, a Mac-only idea-organizer program I often tout in "interesting software" discussions.
There is a lot in his Neo-Victorian essays, with a number of responses, criticisms, and elaborations. Essentially it is an argument that we try to think of today's technological tools the way William Morris, John Ruskin, and other leaders of the Arts and Crafts movement thought about the technology of their nascent factory-based mass-production age.
OK, I've characterized these a little. But seriously, once you start down this trail, I think you will find yourself intrigued. All these themes have obvious implications far beyond the world of the Web or of software, for the role of "craft" in the work each of us does.