'One Chart That Explains the Transformation of Media in 2012'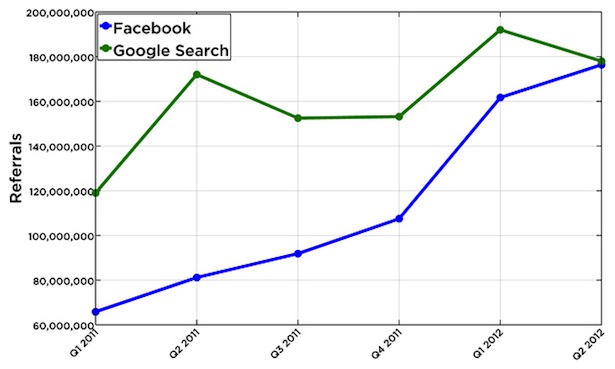 Buzzfeed
While Buzzfeed has been list-making and meme-sharing, it's also been gathering data about how people share things on the Internet. And the outfit has increased the information at its disposal through strategic partnerships with fellow websites, among them Time, The Daily Mail, Funny or Die, and TMZ.
Today, Buzzfeed has released a graphic based on that data, presenting it as One Chart That Explains The Transformation Of Media In 2012.
The chart shows the growth of Facebook over the last six months -- and the intriguing fact that the social network is now matching Google as the top referrer on the Buzzfeed Network. "Facebook's challenge to Google, which accelerated with changes to the news feed," Buzzfeed editor Ben Smith notes, "is part of the broader rise of social platforms as dominant drivers of traffic to publishers in the first half of 2012. Search engines -- who drove publishers toward complex Search Engine Optimization techniques for half a decade -- show little growth."
That is very good news for Buzzfeed, it's worth mentioning, because this is precisely the pitch Buzzfeed makes for itself as a media business. Social is the future, it says. Which is also to say: Buzzfeed is the future. The search paradigm -- and, yes, the dark arts of SEO that have accompanied it -- are being quickly replaced by social mechanisms of content distribution. "Facebook has risen over the last six months to challenge Google's place as the most important source of traffic to online publishers," Smith writes.
Some important caveats, though. The data charted above don't include all web traffic. They encompass only newly-published content over seven days -- "the length of time," Smith notes, "it typically takes for a piece of content to go viral." Buzzfeed's network doesn't include so-called content farms like About.com and eHow, which derive their traffic from searches for evergreen content played out over much, much longer than seven days. Indeed, "search continues to be a key source of traffic to some older content," Smith notes.
So the chart above, and the media transformation is depicts, isn't really about "challenging Google's dominance." It is, however, about the rising role of social when it comes to how we consume -- and share -- and understand -- the web. It's about finding new ways of doing what we have always done on the web: sharing stuff. First, we had USENET and email. Then we had Instant Messenger and ICQ. Then we had Digg and StumbleUpon. Now we have Facebook -- and, of course, Twitter and Pinterest and Reddit and approximately 2 million other networks that allow us to connect through web content.
The transformation taking place is not so much about Google versus social; it's about Google and social -- how the two paradigms will relate to each other as the Internet slowly solidifies. "I think the future is going to be about combining informational content with social and emotional content," Buzzfeed founder Jonah Peretti has told me. Buzzfeed's One Chart bears that out.