Man, Steve Wozniak Carries a Ton of Random Crap in His Backpack
As my mother would surely say: He's definitely going to have back problems if he doesn't already. I mean, one laser pointer sure, but multiple laser pointers?!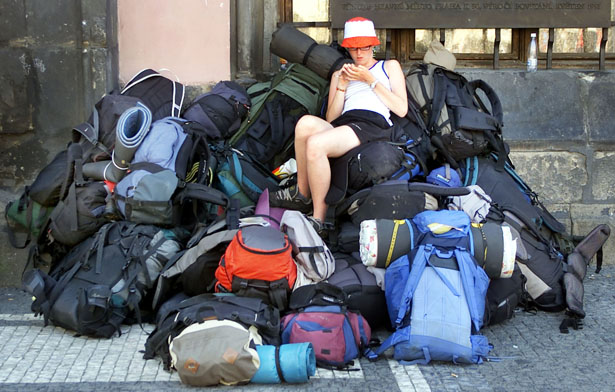 Reuters
Via Gizmodo, Apple co-founder, gadget-lover, and all-around character Steve Wozniak gives an accounting of the contents of his backpack. The list, provided here in part, is stunning:
Droid RAZR
2 iPhones
Galaxy Nexus, unlocked
spare Galaxy Nexus
Garmin for his car
Garmin for his backpack
2 mutewatches
Mophie
Kindle
Verizon battery supplement
iPad
iPad keyboard
MacBook Pro
Jambox
3g MiFi and spare
4G MiFi and spare
iPod Nano
AirPort Express and MacBook Pro 85W magsafe adapter
bluetooth mouse (this, Wozniak says, doesn't get very much use -- implying that everything else does)
binoculars
multiple Gameboy Lights (a Gameboy sold in Japan but never in the U.S.)
foreign AC adapters
prism glasses for watching movies in bed
sunglasses
earplugs for concerts, separate earplugs for flights
pencils, pens, Sharpies, etc.
laser pointers (red, blue, purple, yellow, and green)
Square
cigarette lighter dual USB adapter
toiletries
eyedrops
batteries of all types
And this is a pared-down selection! A picture of just some of the contents laid out on a table, in addition to the list in toto, is available on the Gizmodo site. Wozniak says this all comes to about 50 pounds, and, needless to say, airport security is a nightmare.