Kate Middleton Said No to Your Cover? No Problem, There's Photoshop!
Marie Claire's amazing "fan-art tribute" to the princess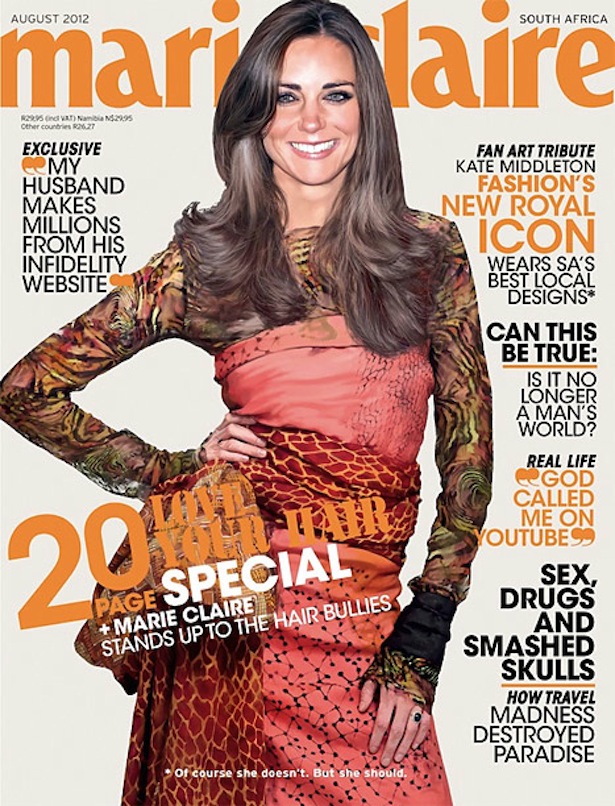 So let's say you're Marie Claire. Being a fashion magazine, you'd really, really love to feature Kate Middleton -- princess, trend-setter, beloved meme -- on your cover. But let's further say that Kate Middleton, being Kate Middleton, declines your request.
Were you a less determined publication -- Vogue, say, or Elle, or even Cosmo -- you might give up right there. But you are Marie Claire, and you are made of stronger stuff than that! You are Marie Claire, and you are determined! You are Marie Claire, and you will not be denied.
Above is the visual evidence of how South African Marie Claire dealt with its pesky little impediment to princessery. It simply Photoshopped Middleton onto its cover, wearing the garb of noted South African designer Clive Rundle.
Cheeky! And definitely less creepy than Newsweek's "Diana at 50" feature!
But the move wasn't just a bit of playfulness/gimmickry/passive aggression. It was also ... a tribute. "Kate Middleton is, without a doubt, the world's new style icon," Aspasia Karras, Marie Claire South Africa editor, explains of what the magazine is calling its "hyper-real" issue. "We have honored her with a fan-art tribute, dressing her up in clothes by South African designers and placing her in all sorts of fun, everyday situations."
Via US Weekly