It's Biological Weapons That Keep James Steinberg Up at Night
The former Deputy Secretary of State rightly notes that they're arguably more terrifying than even nuclear weapons.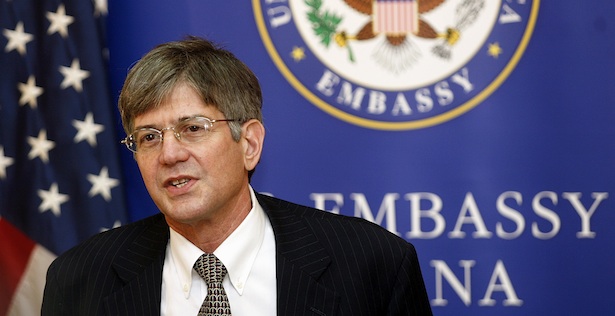 Reuters
The panel, "Technology of War: What Does the War of the Future Look Like," mirrored the larger discussion of those subjects in American media: it focused on drones and cyber-warfare, and understandably so, for those are the cutting-edge weapons actually being deployed in present conflicts, and likely to play an even greater role in future conflicts, especially as more countries use them.
But James Steinberg, former Deputy Secretary of State in the Obama Administration, says there's a less discussed threat that sometimes keeps him up at night, and that he sometimes worries about even more than nuclear weapons: a future when someone unleashes a powerful bio-weapon.
The Spanish flu epidemic killed scores of millions starting in 1918, he pointed out, and a man-made virus could be as deadly, or even more deadly. He isn't the first to make that observation.

Notes from the Aspen Ideas Festival --
See full coverage
What I find interesting is something that didn't come up during the session at the Aspen Ideas Festival. Doesn't the likely future where bio-weapons will be easier to produce - where they can be conceived and spread by less and less sophisticated actors - suggest a very different strategy in the War on Terrorism than the one we're now employing? The present approach is to kill as many Al Qaeda members as possible by searching out militant training camps and gatherings.
But the threat of bio-weapons would seem to make Robert Wright's notion of avoiding blowback and decreasing the overall hatred of America even more relevant than it is now. Of course, that won't necessarily work either. It could just be that much of humanity does when some radical loon unleashes a deadly virus 10 or 35 years from now. That's presumably why Steinberg says it's the threat that keeps him up at night.