In Report, Twitter Lists Zero Cases Where It Has Removed Content in Response to Government Requests
But requests from copyright-holders resulted in the deletion of more than 5,000 tweets.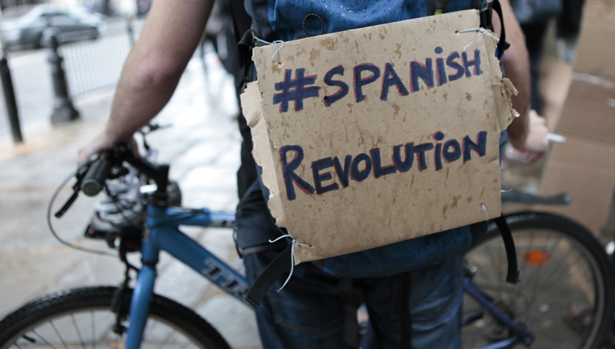 Reuters
With some four million tweets flying around Twitter every day, it's perhaps not surprising that governments and corporations would have some concern about what's going on there (not withstanding the role some have credited the service with playing in some of the biggest democratic movements of the last two years). Many of the requests may well be legitimate: close an account that's impersonating someone, hand over information for a criminal investigation, take down copyrighted content, and so on. But some may not be, and Twitter is going to have to decide whether to comply.
Today, in Twitter's newly released Transparency Report, we get our first glimpse of what this all looks like from Twitter's perspective. They've released small data-sets on three categories of requests covering the first six months of 2012: government requests for information (usually in connection with a criminal investigation), government requests for content removal (unknown), and requests from copyright-holders for the removal of infringing content. For each set, Twitter has provided a rough breakdown of its compliance rate. Twitter emphasizes that this data is not 100 percent comprehensive.
Here's what those rundowns look like:
1. User Information Requests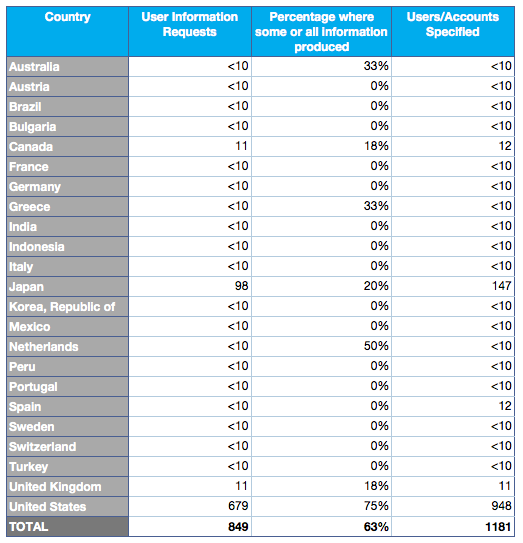 2. Removal Requests

3. Copyright Takedown Notices

The main thing that stands out to me from these tables is that at least by pure numbers, copyright infringement far, far outpaces government requests as a driver of Twitter taking content off the Internet. In response to such requests, Twitter removed more than 5,000 tweets and just under 600 pieces of content. One reasonable interpretation of such numbers may be not that our our system for protecting intellectual property is overreaching but that it is working effectively and smoothly -- and stronger copyright protection is not necessary.
The second thing that I think when I see these numbers is that, well, I wish I knew what was missing. Why does Japan have such a low compliance rate? Why does the US have such a high one? It certainly looks awesome that Twitter removed zero pieces of content upon receipt of a government request, but I'm concerned by Twitter's avowal that this is not 100 percent comprehensive. As with Google's similar report, there is room for improvement in how these data are reported and the information available to the public about how this process works.
And that's okay! This is Twitter's first go at such a report, and if the trajectory is anything like Google's, each report will have greater complexity and better data. Moreover, Twitter has -- on today and on many other occasions -- affirmed its commitments to users' privacy and the free flow of information (as they say today, the Transparency Report is an important part of "keeping the Tweets flowing"). The Transparency Report is just one clue we have in a setting of many clues about Twitter's character as a company and as a tool for people around the world.
More than anything this report showcases why Google's Transparency Report and its quality are so important. Google's report isn't just an accounting of what that company does, it's a standard-setter for the industry. The more Google can do to make its report more thorough -- and, crucially, standardize practices that protect users and information -- the better off users will be, not just on Google but, now we see, on Twitter as well.