The particle, set to music, plays like a jaunty tango.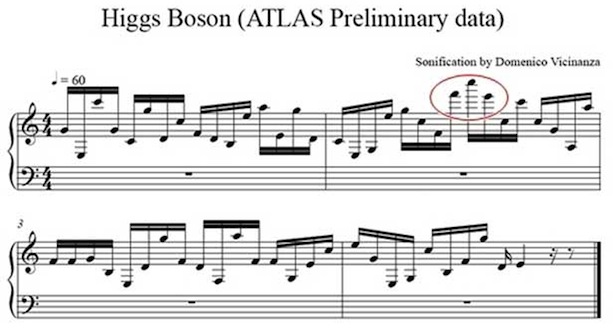 The discovery of the Higgs boson was a singular event, but it was also the product of a long effort: the Atlas project, which used CERN's Large Hadron Collider to analyze particle acceleration. The existence of the Higgs was confirmed -- or, well, the existence of a particle that "looks for all the world" to be the Higgs was confirmed -- when groups of researchers detected a "bump" corresponding to a particle weighing 126 GeV, making it consistent with Dr. Higgs' mysterious particule.
The Higgs, in other words, was discovered due to a data anomaly. And now, that data set -- and that anomaly -- have been set to music. Or, more precisely, music has emerged from that data set and that anomaly. 
That music being, precisely, an upbeat melody that resembles the habanera, a tango-like Cuban dance. 
Yes! And: Sí! You can listen to it here:
Higgs Boson Atlas by theatlantictech
The researcher Domenico Vicinanza, product manager at DANTE and both a musician and an engineer, led the Higgs sonification project -- collaborating with Mariapaola Sorrentino of the ASTRA Project and Giuseppe La Rocca of Catania's INFN, who spearheaded the effort's computing framework.