Greenland's 'Extreme Melt Event'
During a five-day period earlier this month, 97 percent of the surface of Greenland's ice sheet thawed.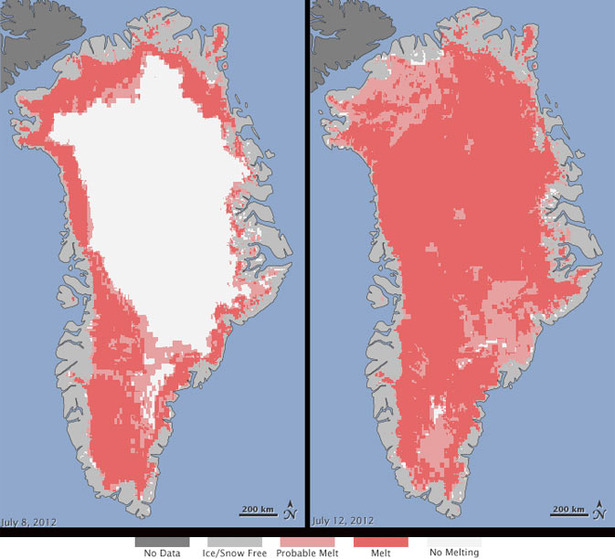 When NASA scientist Son Nghiem was analyzing data from the Oceansat-2 satellite last week, he noticed that an unusual amount of Greenland's surface had experienced some melting on July 12 -- so much so that he thought something was wrong with his data. "This was so extraordinary that at first I questioned the result," he said. "Was this real or was it due to a data error?"
NASA has now confirmed that the data were fine; it's what they were measuring that was unusual -- unmatched, in fact, in the 30 years that satellites have been monitoring Greenland's ice coverage.

The image above shows what Nghiem had initially noticed: In a five-day period in July, Greenland experienced an "extreme melt event." On July 8, about 40 percent of the ice cover had thawed a bit at the surface. Five days later, an estimated 97 percent of the surface area was thawing. Nearly the entire surface of the ice sheet, from the very edges to the very center, saw some thawing. (In the image, the different shades of pink indicate how many satellites observed melting. Light pink indicates one, and dark pink indicates two or three. The discrepancies can stem from, in part, the time of day the satellites pass over Greenland.)
NASA says that it is normal for Greenland's ice to melt a bit in the summer; what is abnormal is the extent. Normally, only about half of the ice sheet's surface sees any melting. This year, that proportion just about doubled. NASA additionally said that its satellites were recording uncharacteristically high temperatures over the island. Those warmer temperatures were brought by a bubble of warm air (a "heat dome"), the latest in a series of such ridges that have moved over Greenland this year.
The last such melt event occurred in 1889, according to data from ice cores, and scientists say they would expect such an event about every 150 years. They'll be monitoring the ice closely in the years ahead to see if this turns out to be a regular aberration, or an irregular one.