Google's Marissa Mayer to Take Over as Yahoo Chief
Mayer has been at Google since the get-go, but told The New York Times that the switch "was a reasonably easy decision."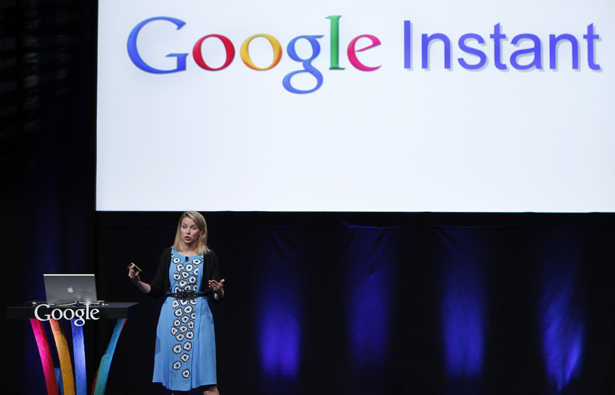 Reuters
In a major tech-industry move, The New York Times is reporting that Google Marissa Mayer, one of the company's top executives, announced her resignation by phone today and will be taking over as CEO of Yahoo beginning tomorrow. The Times explains:
With her appointment as the president and chief executive of Yahoo, Ms. Mayer joins a short list of women in Silicon Valley to hold the top spot. The elite club includes Meg Whitman, the chief executive of Hewlett-Packard, and Virginia Rometty, the head of IBM. Another senior woman in Silicon Valley, Sheryl Sandberg is Facebook's chief operating officer.

For Ms. Mayer, Google's first female engineer, the move to Yahoo is an opportunity to step out on her own and claim a bigger stage. Ms. Mayer has been one of the search giant's most visible and powerful executives, often tapped for keynotes at technology conferences and glamorous magazine spreads. Her life outside of Google, including her posh penthouse in the Four Seasons in San Francisco and her affinity for cupcakes, has also been popular Internet fodder.

In a sign of grander ambitions, Ms. Mayer, in recent months, has started to find success outside of Google. In April, Wal-Mart, the world's largest retailer tapped Ms. Mayer to join its board, her first seat at a public company. She is one of four women on Wal-Mart's 16-person board.

Still, at Google, Ms. Mayer did not have a clear path to the C-Suite.
Mayer has been at Google for 13 years. She was its 20th employee and first female hire. It seems that at Yahoo, Mayer's strategy will not be to bring the fallen tech-giant into direct competition with Google but to build a company off of Yahoo's remaining strengths, particularly in the areas of email, finance, and sports, according to The Times. They report, additionally, that "she also hopes to do more with its video broadband and its mobile businesses." But such aspirations are at best preliminary. During her short tenure at Yahoo, Carol Bartz never quite figured out what the company would be in the Google age. Perhaps a Google insider will have better insight into what Google *isn't* and will be able to guide Yahoo to plug in the gaps.