Everywhere and Beautiful: What's Shaping the Next Internet?
Eric Feng, Dave Morin, Marissa Mayer, Jerry Murdock, and Tim O'Reilly discuss the future of digital at the Aspen Ideas Festival.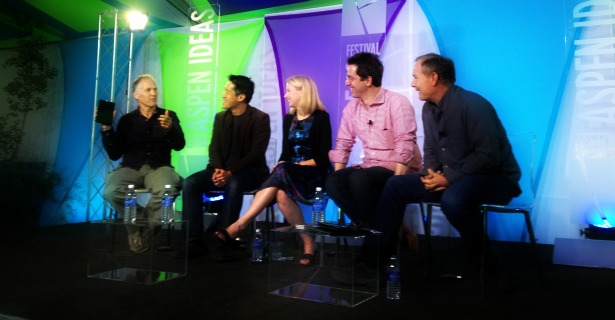 The tech entrepreneurs and investors on the Aspen Ideas Festival's "Next Internet" panel this week used terms like "tsunami" and "tectonic shift" to describe the magnitude of the changes the Internet is about to experience -- and the extent of social disruption those changes will bring. The driving factors? Mobile and design.
Notes from the Aspen Ideas Festival --
See full coverage
"The Internet made your PC or desk interactive, but didn't do anything for the rest of your life," said Dave Morin, the co-founder and CEO of Path. "Mobile is with you all the time. The platform goes from being at your desk to being with you your entire life. Mobile is not about clicking through pages, but a device that's walking around the world with you."

The PC could almost be considered a failure, Morin argued. Personal computers maxed out at 1.5 billion users while there are currently 6.1 billion mobile users globally.
The wave of the smart phone is here and growing rapidly. Insight Venture Partners co-founder Jerry Murdock -- who called smart phones "Swiss army knives" -- noted that over 70 percent of all Verizon and ATT contracts were for smart phones during quarter one of this year.
The mobile wave goes well beyond just smartphones. Google's vice president of location and local services Marissa Mayer called it a "sensory revolution" where devices respond to touch, have cameras, and can track a person's every move. One example is the new Google Glass. Another is the Nike Fuel Band bracelet: Nike recently announced an integration with Path, an app that acts as a private social network; the bracelet (a wearable computer) tracks and shares the user's stats on the network.
Thanks to the cloud and other technologies, it's meanwhile easier than ever to create an app and distribute it; so increasingly, app developers are looking to design to help their products stand out. "It's almost a given that any idea can be built," said former Hulu CTO, now with the video startup Airtime, Eric Feng. "The way you differentiate is great design."
Startup founders are tending now more and more to come from design than from technical backgrounds. Tim O'Relly, the founder and CEO of O'Reilly Media, pointed to successful companies like Airbnb, an online marketplace for private vacation rentals, which was founded by two designers.
E-commerce is an area where the effects of well-designed mobile devices have been especially pronounced. Murdock indicated that in 2010, mobile devices accounted for 6 percent of e-commerce transactions; expectations for this year are around 20 percent.
Google last week introduced analytics for mobile and Mayer believes that mobile technology will disrupt everything from cab services to currencies. "We are likely to see the end of paper and physical currencies in our lifetime," she predicted.
The panelists were otherwise hesitant to anticipate specifics about what the rise of mobile and the renaissance in design would yield, precisely because these changes are still in their early stages. But they agreed their aggregate impact will be profound: "Tsunamis are perfectly harmless until they hit the beach," Murdock said.