Do You Sort of Not Really Care About the Olympics? Here's the Site for You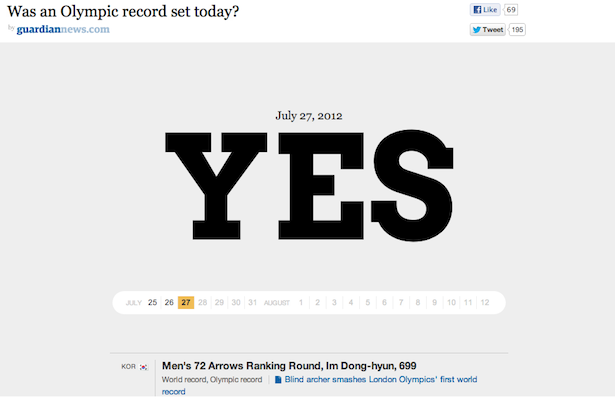 A few hours ago, the South Korean archer Im Dong-hyun set the first world record of the 2012 Olympiad. Im broke his own 72-arrow mark of 696 by three points -- and led his team, as well, to a new world record in the team shoot.
Oh, also? Im is legally blind.
I learned these tidbits from wasanolympicrecordsettoday.com, the single-serve site launched this morning by GuardianNews.com, the U.S. incarnation of the British news site. In the proud tradition of istwitterdown.net, isitchristmas.com, and hasthelargehadroncolliderdestroyedtheworldyet.com, the site is spare, spunky, and singular in purpose. Its main content is a word: YES or NO.
Is this a helpful concept? I'd say YES. Because, I have to admit: Save for the ceremonies and a couple particular events I might follow, my level of interest in the Olympics overall is medium at best. The information provided by a single-serve site perfectly matches my engagement with the event. A record was broken today? Awesome. A record wasn't? Okay, cool. Moving on.
I may be lame in my ambivalence, but I'm also not alone. Sometimes, says Gabriel Dance, interactive editor for The Guardian US, pure information -- a sense of history made in a day of competition -- is what people want from their Olympics coverage. Broken records are something that even the non-sports-interested among us can care about. Wasanolympicrecordsettoday (and its sister site, wasarecordsettoday, which The Guardian also owns) is a fun way to serve my dithering demographic.
"The goal was just to make something that was fun and interesting and useful," Dance says. Wasanolympicrecordset isn't trying to be a news site, per se -- or even an explicit extension of The Guardian's brand -- but simply something to live on the social web: something that is both amusing and informative. There's some branding on the site, certainly, and the notations of records link back to Guardian articles when they're available. Ultimately, though, this was an experiment. The site pulls its data from The New York Times' API, Dance told me. Which means that, now that it's launched, it pretty much runs itself.
And "we couldn't have been more lucky that world records were set today," Dance says. "We were really nervous that a world record wouldn't be set for six or seven days" -- with people going to the site, day after day, and reading NO, NO, NO, NO. Which, even for the athletic-ambivalent among us, would have been a tad uninspiring. So, "we really owe a debt of gratitude" to Im Dong-hyun, Dance says. "Not only did he set a record for South Korea, but he came through for The Guardian, as well."