'Denver Resident Here. Reddit, I'm Doing My Best to Update This.'
The real story here is the tragedy, but the way the news spread is also a sign of the times.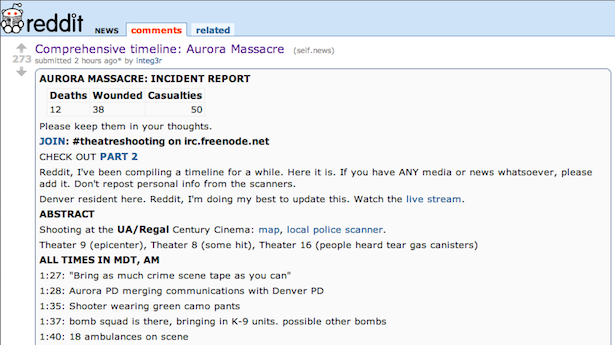 Late last night, a gunman opened fire during the premiere of The Dark Knight Rises in Aurora, Colorado, killing 12 people and injuring 38.
There were hundreds of people in a theater who witnessed and were part of those events, and almost all of them were equipped with mobile phones. Many of those phones were further equipped with cameras and keyboards and Twitter and Facebook apps. This was, among so many other things, an exceedingly well-documented atrocity.
Take, for example, the many cell phone videos that captured the scene. Take the many tweets. Take the Twitter feed, in particular, of Adam Williams, whose brother was injured in the violence. Take the Redditor who was himself injured in the shootings, and who posted to the site -- along with a note, "my thoughts go out to those less fortunate than me" -- images of his bloodied, bullet-torn shirt. And of (warning: much more graphically) his bloodied, bullet-torn body.
These are hard to take. They're hard to watch and see and hear and read. And the real story here, of course, is the tragedy that those images and videos and tweets and blog posts represent: the violence and the loss of lives -- the senselessness of that violence and that loss -- and the tragic irony that something like this is happening in Colorado. Again, in Colorado.
The secondary story, however, is the way the tragedy revealed itself to the rest of the world -- the way the tragedy transformed, through that revelation, into an information network. This was not just a documented massacre, but one that is being documented across the web, and across the web's media outlets: on Twitter, on Facebook, on news sites. Wikipedia, unsurprisingly, already offers a comprehensive entry for "2012 Aurora shooting." This entry is featured, along with other information sources, on Google News.
But one of the most effective sources of information about the massacre has been Reddit. In particular, "Comprehensive timeline: Aurora Massacre," a Reddit page that offers a tick-tock of the Aurora events that play out in granular, heartbreaking detail. Posted a few hours ago, it has already received hundreds of upvotes, and is on its way -- already -- to becoming one of the definitive documentations of the tragedy.
"Reddit, I've been compiling a timeline for a while," page author integ3r writes. "Here it is. If you have ANY media or news whatsoever, please add it. Don't repost personal info from the scanners. Denver resident here. Reddit, I'm doing my best to update this."
From there, starting at 1:27 am, Mountain Daylight Time, integ3r offers a breathtaking detail of events.
1:28: Aurora PD merging communications with Denver PD
1:35: Shooter wearing green camo pants
1:37: bomb squad is there, bringing in K-9 units. possible other bombs
1:40: 18 ambulances on scene
1:41: 9news story posted.
1:42: "All ten people in the theater are black." Fatalities.
1:43: Report of a bomb going off in a theater.
1:45: Patients being transported to Denver Health
1:47: Command staff briefing. This is huge.
1:49: Car, Tennesee plates, Hyundai, license [redacted]. third to west, in front of doors. Possible bomb. Main entrances of mall covered. Bomb squad moving in.
1:53: Canine units coordinating at SE entrance between JC Penney's and the food court. May be a bomb in there. Theory that bombs may be in front of theater.
1:55: New evidence for shooters. That's plural. Theater 8, the shooter was seated. One more was outside, went into Theater 9. Coordinated attack. Two shooters. Open door discovered at mall. Suspicion of bomb in there.
1:56: One shooter at large, one in custody. From Facebook: Someone set off some little party poppers in our theatre, next thing I know someone runs in and said there was a shooting. We huddled down into the seats because people were outside the exit. I was fortunate enough to get home safely with my sister but a few friends are still stuck there.
1:57: Due to bombs, police relocating all units to S of Dillard's. Open door was in Macy's. Suspicions of bombs there.
It goes on like that, page after page, detail after mundane, sickening detail. It is not an article, its information mediated by the arts of syntax. It is simply fact after fact after fact, informing and assaulting you at the same time. It is comprehensive in every sense, and a peculiar mix of objectivity and empathy: The facts here speak for themselves, and yet the entire timeline is an act of generosity -- a gesture of shared humanity expressed through information.