The real story here is the tragedy, but the way the news spread is also a sign of the times.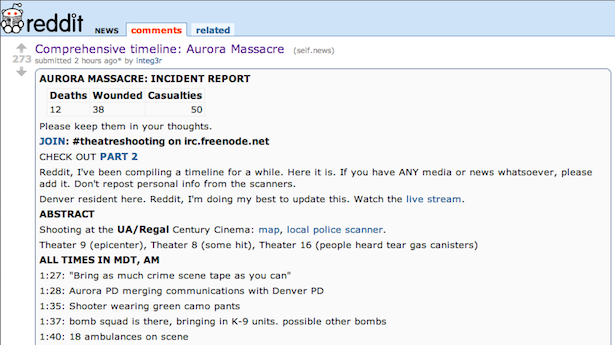 Late last night, a gunman opened fire during the premiere of The Dark Knight Rises in Aurora, Colorado, killing 12 people and injuring 38.
There were hundreds of people in a theater who witnessed and were part of those events, and almost all of them were equipped with mobile phones. Many of those phones were further equipped with cameras and keyboards and Twitter and Facebook apps. This was, among so many other things, an exceedingly well-documented atrocity.
Take, for example, the many cell phone videos that captured the scene. Take the many tweets. Take the Twitter feed, in particular, of Adam Williams, whose brother was injured in the violence. Take the Redditor who was himself injured in the shootings, and who posted to the site -- along with a note, "my thoughts go out to those less fortunate than me" -- images of his bloodied, bullet-torn shirt. And of (warning: much more graphically) his bloodied, bullet-torn body.
These are hard to take. They're hard to watch and see and hear and read. And the real story here, of course, is the tragedy that those images and videos and tweets and blog posts represent: the violence and the loss of lives -- the senselessness of that violence and that loss -- and the tragic irony that something like this is happening in Colorado. Again, in Colorado.