Lord Sharkey said, "If my Bill becomes law, as I hope it will, then this will finally go some way towards acknowledging the debt we all owe to Alan Turing and grant him the free pardon he so clearly deserves."
Steve Parker/Flickr
There is a pretty direct line that runs from Alan Turing's work on the Enigma Code to Britain's victory in World War II. There is also, unfortunately, a direct line from mid-century Britain's anti-gay laws to Turing's personal torture. Following an arrest in 1952 for "acts of gross indecency between adult men," Turing was forced to choose between imprisonment and chemical castration -- estrogen treatments. He chose the latter, and suffered through impotence and depression as a result, which may have led to his death, possibly a suicide, in 1954.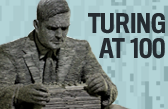 A celebration of the life and work of the pioneering computer scientist
See full coverage
Regardless of whether Turing did commit suicide, the facts of his persecution are plain and, frankly, shameful for England today. This year marks what would have been Turing's 100th birthday, and, in the midst of the celebrations, commemorations, and symposia on his life, many people have raised the question of what England can do today to symbolically rectify what it did more than 50 years ago. Prime Minister Brown offered a formal apology in 2009 and earlier this year thousands signed a petition requesting Turing's likeness on a £10 note.