Apple Has been Involved in 3 of Every 5 Mobile Tech Patent Suits Over the Last 2 Years
It's lonely litigious at the top.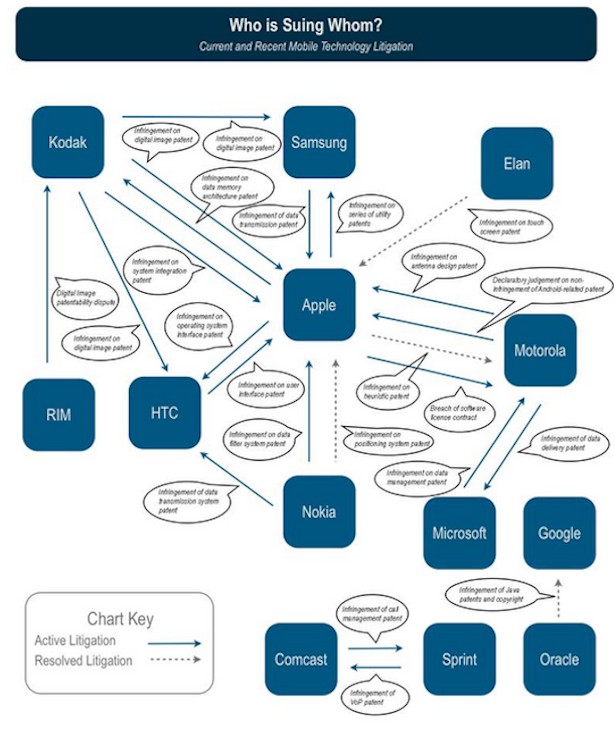 Here is a map of mobile technology's litigation landscape as it's evolved over the past two years. The chart comes via the Kanzatec IP Group, an intellectual-property consulting firm, and offers the following crazy-but-also-revealing statistic: Around 60 percent of the major IP suits in mobile tech have, somehow, involved Apple.
Yes. And "involved," you see, because Apple gives as good as it gets. In Kanzatec's chart, five of the fourteen suits involving Cupertino find Apple not as defendant, but as plaintiff in the litigation. (Remember Steve Jobs' threat "to go thermonuclear" on Google -- not for the money, but for the company to "stop using our ideas in Android"?)
So, sure: Part of the litigation map's Apple-centrism has to do with the company's preemptive attacks on iPhone competitors. And part of it could also have to do with the company's penchant for tweaking -- which may be a great practice as far as design goes, but which is far less great a practice when it comes to IP.
Overall, though, it's hard not to see Kanzatec's chart as a cynical and sigh-worthy commentary on the state of mobile innovation. Ultimately, Apple is at the center because Apple is at the top. Not only is the company incredibly wealthy -- ridiculously, McDuckily wealthy -- but it's also wealthy in a way that makes it particularly alluring to competitors' lawyers. Apple has nearly $100 billion in cash on hand, and it is resolutely maintaining that sum as savings rather than reinvesting it. Which means that Apple will be prepared for any financial rough patches that come along ... but which also means that Apple is sitting on an enormous sum of money. Money that is oh-so-useful for, among other things, settling suits. Money that might as well be Tim Cook shouting to competitors, "Okay: Sue me."