America's Last, Best Web 1.0 Historic Campaign Button Website
If, perhaps, you're not a fan of the Romney 2012 campaign's striking t-shirt, emblazoned with a synonym for
hope...

Or a fan of the reams of conventional merchandise with two half-Rs, spooning...

you arrive at the "Vintage" collection, Romney memorabilia that looks, well, exactly like memorabilia.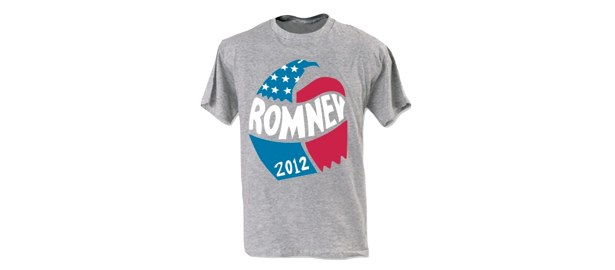 Which is pleasing. But I went looking to see if the "vintage" design borrowed from any real campaigns. Did a Presidential candidate really use that kind of swooping, stenciled sans serif in the Sixties? And that's when I found America's last, best relic of Web 1.0: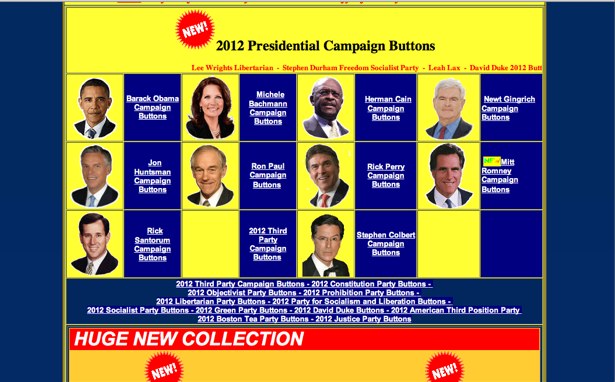 "Ron Wade Political Campaign Buttons."
Go and visit his site; just go look at this thing. It's all there. Oblique, bolded Arial. Text in embedded images. Rainbow GIFs. A freeservers.com web address. Even -- where the Great White Way meets Web 1.0's White Whale -- a <marquee> tag.
But what's best about it? It's fueled by a single person's passion.
Web 1.0 was a hobby shop: tacky, busy, and overflowing with passion. Ron Wade runs the best campaign button bazaar this side of HTTP. And his site, best of all, answered my question: there are no real analogues to the Romney vintage shirt. As you might be able to predict, it's an amalgam of styles, all used by Democratic politicians in the late Sixties and early Seventies:

Ron Wade Campaign Buttons
(Republicans at the time preferred more cautious block faces. And their buttons had a decided lack of spooning R's.)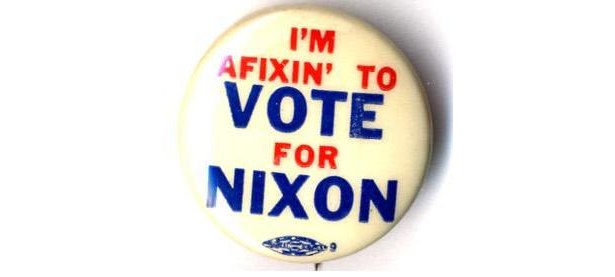 Ron Wade Political Campaign Buttons