A Visit to the World's Most Remote Antarctic Outposts With Google 'Street' View
Cold weather has preserved the huts of early South Pole explorers for a century. Now you can visit these time capsules online.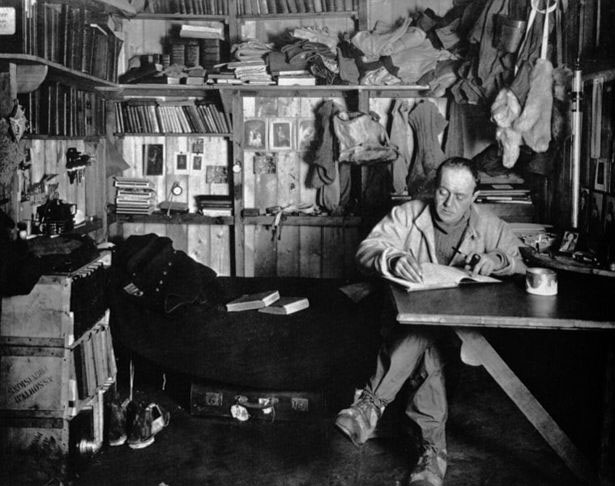 Wikimedia Commons
About a hundred years ago, Robert Falcon Scott sat at a table in his hut on Ross Island off the coast of Antarctica and, as it appears in the above photograph, wrote in his journal. Thousands of miles away from home, he was making the final preparations for his race to the South Pole that he would lose to the Norwegians -- and from which none of Scott's team would make it back alive.
If you're like me, you look at this picture and wonder, what has become of the hut since? What remains of Scott's polar base?
Now with Google, you can see for yourself the hut as it stands today. You can explore its rooms and the surrounding ice. And you can see, in that warped perspective of Google's Street View, that very table where Scott sat -- the bed and shelves still lining the background (and, for some reason, a dead penguin on the table's surface).
The hut is part of a suite of Antarctica sites Google released in 360-degree panoramics on Street View today. The release also includes:
Shackleton's hut (from another polar expedition):
The ceremonial South Pole:
And, maybe best of all, the penguin rookery!
According to Google's Alex Starns who works on the Maps and Street View projects, Google brought these Antartica sites online as part of its bigger desire to make remote and inaccessible regions of the world more familiar, more knowable, for people's research, education, or just plain enjoyment. According to Starns, when photographers traveled to Antarctica during the Austral summer this past year, temperatures hovered around 60 below zero. Starns says that in his estimation, Street View provides an experience "almost as good" as being there in person. Perhaps, but taking the Antarctic chill into account, I'd say that the remote view has at least one clear advantage.