'A Pregnant CEO: In Whose Lifetime?'
A 1992 speech takes on new meaning as Marissa Mayer announces her pregnancy.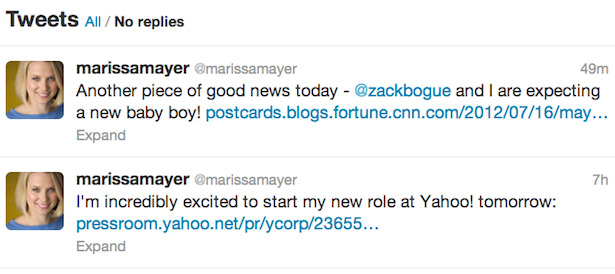 Twitter
Nearly twenty years ago, in October of 1992, Lawrence Perlman gave a speech. The Ceridian Corporation CEO focused his presentation, later published in the Christian Science Monitor, on creating work environments that would be friendly to women and families. Perlman titled his speech "A Pregnant CEO: In Whose Lifetime?" The implication being, ostensibly: probably not ours.
I mention this because news broke last night that Silicon Valley's newest CEO -- Marissa Mayer, who starts her new role at Yahoo today -- also happens to be an expectant mom. Mayer is due with her first child in early October.
This, on the one hand, should really be none of our business. And on whatever level the news may be even a tiny bit our business -- the human family, the public eye -- it should be worth a congratulations to Mayer and her husband, nothing more. On the broader level, though -- of the human family, of the public eye -- Mayer's pregnancy means something. How she handles it, publicly, will mean something. "My maternity leave will be a few weeks long and I'll work throughout it," Mayer said in announcing the news. And that, too, will mean something.
Because here, finally, is Perlman's "pregnant CEO." A female chief executive who was hired while she was pregnant -- and who will give birth just a few months into her tenure -- is a symbolic turning point. As The Verge's Tim Carmody put it of the pregnancy news, "This is big. This is about our families, our values, our commitment to the people who work in our industry, about what's said and whispered."
Mayer certainly isn't the first to join the club, obviously. Nor is she exactly -- which is to say, at all -- representative of the average working woman. As Anne-Marie Slaughter pointed out last night, Mayer is "superhuman, rich, and in charge" -- all of which make her exceptional, both as a person and as an expectant mom. Mayer will, however, be a person and an expectant mom and a chief executive in notoriously male-dominated Silicon Valley. In that she will be, whether she wants to or not, a role model. Her choices, just like those of Sheryl Sandberg and of Anne-Marie Slaughter, will take on the weight of archetype. Not for all women, but for women who aspire to tenures and C-Suites.
So it's worth, today, returning to Perlman's "pregnant CEO" speech. His argument was an early-'90s version of Slaughter's, and he framed leadership parity, fascinatingly, not just as a matter of cultural justice, but of business competitiveness. "We have to look within our companies and ourselves to identify the problems and find ways to unlock the strengths that will allow us to compete and win," Perlman declared.
This issue is not just a feminist issue, a liberal issue, a fairness issue. Ultimately it is a question of American business competitiveness. To the extent that we in the United States deny women the opportunity to develop in business to their full potential, we are ruling out contributions from some of the most capable people in the work force.

Women, whose contributions are more than equal to those of their male counterparts, still must manage a career, childbearing, and child care with little support from the society and their companies. We should be encouraging men to participate more fully in the care of children and families. Instead, we continue policies that encourage women to drop out of work and men to drop out of family ...

In a 1990 Catalyst study of women in corporate management, most CEOs surveyed perceived women as equally prepared or even better prepared than male counterparts in terms of education, technical training, management skills, and interpersonal skills. But women were not considered to be equal to men in career commitment, risk-taking, and initiative. "Career commitment" is a euphemism for "What if she has a baby?"

Well, what if she has a baby? Surprise: Work goes on. Women executives redistribute the work among colleagues, stay in touch by phone, fax, and modem. It is very much the same as when a male CEO becomes ill, or breaks his leg skiing, or has an accident and is out of the office. If CEOs (male or female) have not built depth and quality into their management team so that they are not indispensable, then we should all suspect there is a terminal case of the "CEO disease" at work.

If women must choose between having children and being a significant part of their care, or being paid 65 percent of what a male counterpart is earning (who is also 20 times more likely to be promoted into a top job), it is not difficult to see why women might leave their companies to seek better opportunities elsewhere. If companies want stronger career commitment from women, they should hasten to correct pay inequities and create equal opportunities for promotion.
Yahoo, to its credit, has made a role model of Mayer. What will be really nice, though, is when someone like Mayer won't have to be a role model. What will be really, really fantastic is when someone like Mayer can be just a pregnant CEO -- rather than, you know, A Pregnant CEO.
Via @Rozzy