A 1992 speech takes on new meaning as Marissa Mayer announces her pregnancy.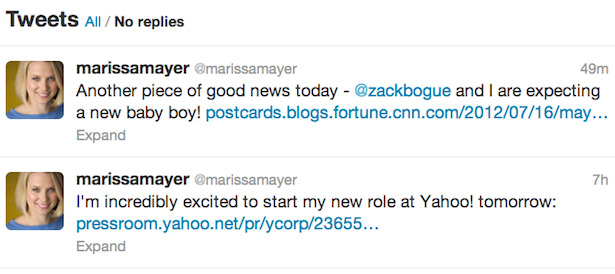 Twitter
Nearly twenty years ago, in October of 1992, Lawrence Perlman gave a speech. The Ceridian Corporation CEO focused his presentation, later published in the Christian Science Monitor, on creating work environments that would be friendly to women and families. Perlman titled his speech "A Pregnant CEO: In Whose Lifetime?" The implication being, ostensibly: probably not ours. 
I mention this because news broke last night that Silicon Valley's newest CEO -- Marissa Mayer, who starts her new role at Yahoo today -- also happens to be an expectant mom. Mayer is due with her first child in early October. 
This, on the one hand, should really be none of our business. And on whatever level the news may be even a tiny bit our business -- the human family, the public eye -- it should be worth a congratulations to Mayer and her husband, nothing more. On the broader level, though -- of the human family, of the public eye -- Mayer's pregnancy means something. How she handles it, publicly, will mean something. "My maternity leave will be a few weeks long and I'll work throughout it," Mayer said in announcing the news. And that, too, will mean something.