A Disheveled, Wandering Star (Has a Sneezing Fit)
Gesundheit.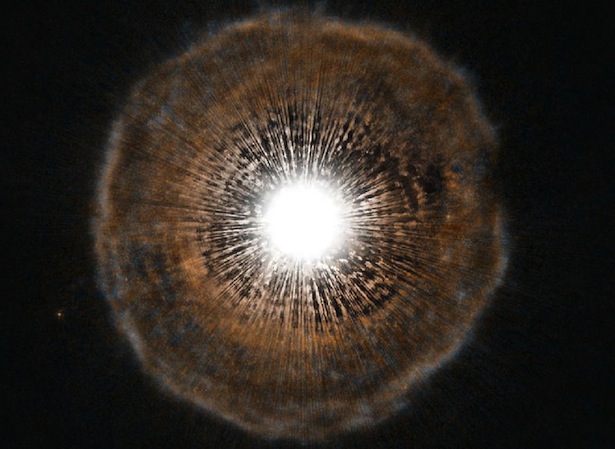 NASA
U Camelopardalis is a star on the brink. The carbon star -- 1,500 light years away from us, in the Camelopardalis constellation -- is nearing the end of its life. And as stars run low on fuel, they become unstable. U Cam has an atmosphere that contains more carbon than oxygen -- and, due to its low surface gravity, as much as half of U Cam's total mass can be lost to the forces of stellar winds.
Every few thousand years, NASA notes, U Cam "coughs out a nearly spherical shell of gas as a layer of helium around its core begins to fuse." When the star experienced its latest wheeze, the Hubble Space Telescope was there to capture the fit.
In the picture above, the explosion of gas makes U Cam seem much larger than it actually is. (The gas is the murky halo around the bright-white star itself.) And the brightness of the explosion, NASA notes, saturated the Hubble camera's receptors -- meaning that U Cam, the sneezy, wheezy carbon star, is actually much daintier than the image above suggests.