Your Neighbor's WiFi Router Would Like You to Vote for Romney
Wireless network names: the lawn signs of the digital age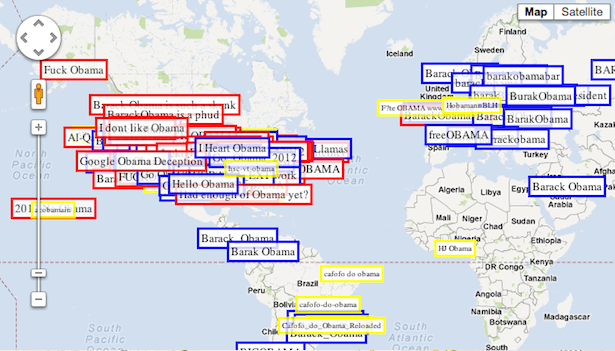 If you use wireless Internet at home, one of the rites of passage upon moving to a new place is naming a new network. Most of us keep it simple: "275_Elm_Street," "Apt23," "my_network." Some of us, however, get more creative and communicative in our naming strategies: "Apt112IHaveYourMail," "PrettyFlyForAWiFi," "WeCanHearYouHavingSex." Particularly in large apartment buildings, where almost every unit has a unique wifi network that will be detected in turn by all the other unique wifi networks, SSIDs can be a cheeky, geeky way to broadcast messages to your immediate neighbors.
In an election year, especially, that communication can take on distinctly political overtones. The team at OpenSignalMaps, which maintains a database of geolocated wifi access points, analyzed the data they've collected about wireless routers to see whether wifi names are "being used to fly political colors." They found, globally, 1,140 results for "Obama" and an additional six for "Romney" -- an indication not necessarily of Romney's popularity relative to the president's, but of the attention that four years as president can confer.
What's most interesting about the analysis isn't the Obama/Romney split, but the simple fact that it occurred to more than 1,000 households to use their wifi networks for political speech in the first place. There's something uniquely contemporary and incredibly old-school about that kind of broadcasting: It's messaging meant only for your immediate neighbors. It's both intimate and isolating, both invasive and impersonal, both omnipresent and invisible, both passive and aggressive. Someone who lives near you would like you to consider "RonPaul_For_President." Okay, considered! The politicized network names are like lawn signs for people who don't have lawns.
Which makes them, actually, a nice little metaphor for political discourse as it looks like right now, with its particular mix of intimacy and impersonality. On the one hand, via targeting and tailoring and data mining and narrowcasting, political messages are crazily customizable: down to the neighborhood, down to the apartment, down to the person. On the other hand, they're generally impersonal. Door-to-door political campaigns, neighbors trying to persuade neighbors, are quickly being supplemented and/or replaced by the efficient efforts enacted on Facebook and Twitter and email. Politicized network names merge the two approaches, broadcasting messages by -- and for -- anonymous neighbors.