Win a Date With Tad Hamilton Pitbull!
Walmart would like you to Like it.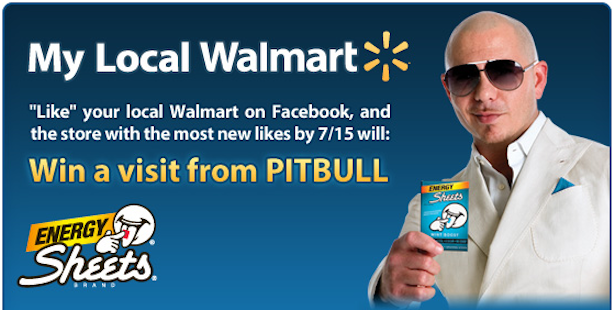 Walmart/Facebook
Walmart would like you to Like it on Facebook. But Walmart would like you to Like not just its brand; Walmart would also like you to Like its local stores. Specifically, Walmart would like you to Like your local store -- the better to target ads to you, to target deals to you, to build you up as a constituency for Walmart's brick-and-mortar business.
Walmart has found a
weird
clever
hilarious
 clever-but-kind-of-weird-and-either-way-hilarious way to do this: by pitting the constituents of various stores against each other. Like your local Walmart store,
Walmart announces in a new contest
, and your local Walmart store could win a visit from the rapper
Pitbull
!
Not a performance, necessarily ... but a visit!
The contest -- a little bit Win a Date with Tad Hamilton!, a little bit bizarro marketing ploy -- has a hefty whiff of evil genius: take people's competitive instincts (and, obviously, their appreciation for Kings of Crunk) and put them to use for the purpose of creating a Facebook fan base for each individual Walmart store. Store versus store, Liker versus Liker, all throwing down on Facebook! Everyone wins! (Even Energy Sheets, which are like Red Bull for your tongue, and which are sponsoring the contest!)
Actually, not everyone will win. What the Likers get in the deal -- save for the slim potential of seeing Pitbull in their local stores -- is unclear. The best part of the contest, from Walmart's evilgeniusy perspective, is that Walmart gets its Likes without, strictly, needing to procure Pitbull. As the contest's disclaimer notes: Event scheduling is subject to Artist's availability. Walmart reserves the right to amend, modify or terminate this promotion in its sole discretion.