When Twitter Sleeps: Comparing NYC, Tokyo, Istanbul, and São Paulo
A visualization of Twitter activity shows cultural differences in when people go to bed, when they rise, and whether they tweet at work.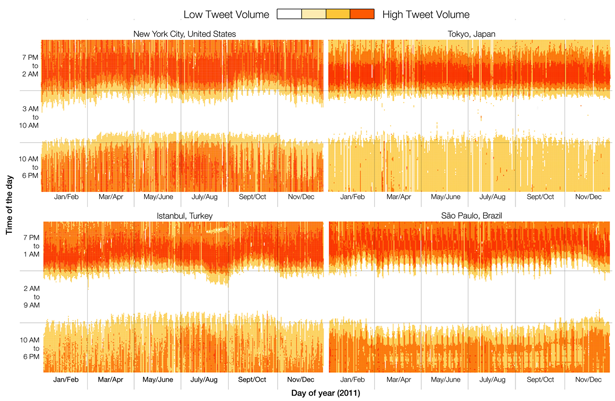 New York may claim to be the city that never sleeps, and while that may be a bit of an exaggeration, new data from Twitter shows that it has a pretty good claim to the mantle The City That Sleeps the Least.
The graphic above shows tweet volume a five-minute increments throughout 2011 for New York City, Tokyo, Istanbul, and Sao Paulo, painting a picture of when people around the world are tweeting, sleeping, and waking up. A few noticeable trends:
People in New York, Istanbul, and Sao Paulo all stay up later in the summer. New Yorkers seem to also stay up later in the winter. Those in Tokyo are the most consistent regardless of season.
Japanese twitter users don't tweet during the work day.
New Yorkers have the least variation between tweet volume during work and at night.
Paulistas sleep later. It also appears they go to bed earlier, in contravention of their reputation as night-life lovers. Also possible: They don't tweet as much when they're out having a good time. (Editor's note: This is clearly implausible?)

The image comes from a paper by Twitter analysts Jimmy Lin and Miguel Rios, and was presented earlier today at a workshop on social-media visualization in Dublin.