What's Wrong With the World Today: Remote Control, Edition
To whom it may concern: an off button should also be an on button.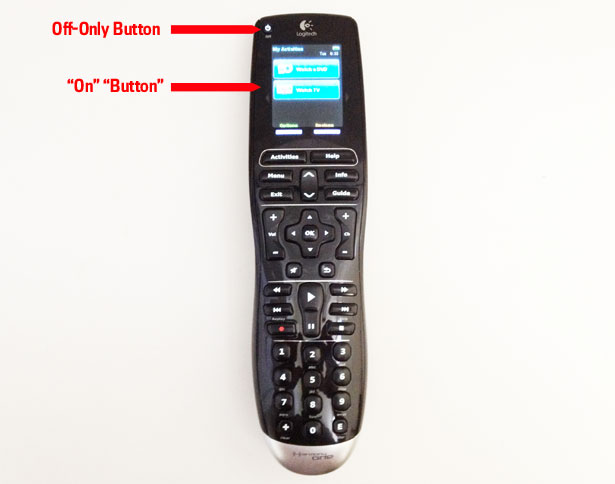 Somewhere in a low-slung office park with mirrored windows, Person X had an idea about how to make a better remote control.
Tucking in his golf shirt, this designer or engineer or inventor marched into his manager's office, rapped loudly on the door frame, and announced, "I've solved the on-off button problem, sir."
"The on-off button problem?" the manager responded, looking up from his General Tso's chicken. He hadn't heard of such a problem, but it was plausible that such a problem existed.
And that he should know about it.
"Yes!" Person X shouted. "People shouldn't have to think about whether their device is on or off! That's an anachronism! What is this, the 20th century? They should pick up the remote and simply see a touchscreen that says, 'Watch TV.' Just think about it: They don't want to turn a device on, they want to watch TV. Let's give them what they want."
Person X handed his manager a sketch he'd drawn on the back of a TPS report cover. "THIS," he said.
"This," the superior responded, "This is brilliant. Just touch what you want to do. This is the end of the on-button era!" The manager quickly dashed off an email up the chain, which he figured would forever establish his reputation as an incubator of creative people and ideas.
I've obviously made up the names, people, and dialog, but this bizarre logic is real. Look at this remote for the television where I'm staying this week. That upper-left button, which is in precisely the same place as all previous on-off buttons on similar remotes and features the icon that means 'power,' will not turn the television on. Someone stripped out the standard on function of the button, which has existed for decades.
Why? I HAVE NO IDEA. It's just another example of a solution to a problem that didn't exist in our overinnovation nation.