The Screen of Each Laptop in the Apple Store Is Set to the Exact Same Angle
It takes a lot of work to be this relaxed.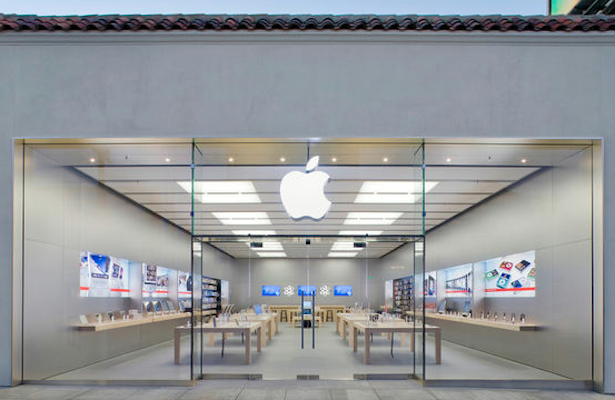 In the sea of horror and despair that is the American shopping mall, the Apple Store is often a singular source of refuge. Check your email -- for as long as you want! Play a game of Angry Birds -- on the iPad of your choice! Ask a bearded blue-shirt named Jon anything at all about about the new MacBook Pro -- he'd be totally happy to talk about whatever!
Beneath all the chillness and chirpiness, though, is a consumer destination whose whimsy is the result of painstaking calibration. Think Disney World's underground tunnels, except with all the draconianism out on display and integral to the whole aesthetic. The products placed on blond-wood tables at precisely measured intervals. The reservations-only appointment system at the Genius Bar. The Five Steps of Service. The fact that Jon's beard is trimmed to a uniform three inches. It takes a lot of work to stay this relaxed.
Turns out, though, that there's one more bit of precision required to make the Apple Store so Apple-y. The notebook computers displayed on the store's tabletops and counters are set out, each day, to exactly the same angle. That angle being, precisely, 70 degrees: not as rigid as a table-perpendicular 90 degrees, but open enough -- and, also, closed enough -- for screens' content to remain visible and inviting to would-be typers and tinkerers.
The point, explains Carmine Gallo, who is writing a book on the inside workings of the Apple Store, is to get people to touch the devices. "The main reason notebook computers screens are slightly angled is to encourage customers to adjust the screen to their ideal viewing angle," he says -- "in other words, to touch the computer."
A tactile experience with an Apple product begets loyalty to Apple products, the thinking goes -- which means that the store exists to imprint a brand impression on visitors even more than it exists to extract money from them. "The ownership experience is more important than a sale," Gallo notes. Which means that the store -- and every single detail creating the experience of it -- are optimized for customers' personal indulgence. Apple wants you to touch stuff, to play with it, to make it your own. Its notebook computers are tilted at just the right angle to beckon you to their screens -- and, more importantly, to their keyboards. Come on in, they say. The trackpad's fine.
So how does Apple ensure that its products are precision-angled to send that message? Employees who open the store every day, Gallo writes, use a leveling device that allows them to tilt each computer screen to the correct 70-degree angle. The tool they employ for that task? An incline-measuring app loaded onto an iPhone.