The Hidden Downside of the New MacBook Pro
The new Apple laptop is one of the most difficult-to-repair computers ever made.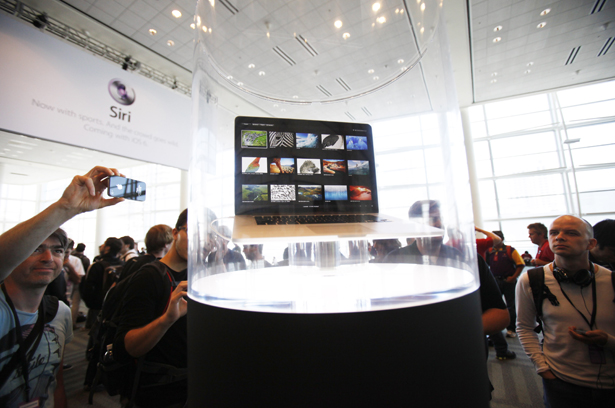 Reuters
When I read the announcement of the new Apple MacBook Pro with Retina display, my first reaction was that my dream computer had finally arrived, with every one of the features and ports (including high-capacity solid-state drive) that were on my checklist. I had priced a comparable Windows desktop with the same features from a leading custom builder for hundreds of dollars more, without monitor or shipping. But I also knew there had to be a catch.
Here it is. The Los Angeles Times reports that the Macbook Pro with Retina is one of the most difficult-to-repair computers ever made. An independent California Apple repair shop, iFixit, gave it a score of one on a one-to-10 scale for repairability. The RAM and that solid-state drive can't be upgraded; the expensive Retina display can't be replaced if broken; the battery is glued rather than screwed in. Even the exterior screws are a non-standard Apple design.
Will Apple customers mind? I doubt these revelations will hurt sales, except to people who expect to need more than the standard 512 GB drive. A three-year AppleCare plan is available for a reasonable $349 for three years. By that time most true fans will want an even better new machine, and the resale value of their old machines will be relatively high as laptops go. If quality problems arise under the plan, then for plan subscribers, the difficulty of repair will be mainly Apple's headache.
Even the original Mac showed a similar design philosophy in eliminating the expansion slots common to both the PC and the Apple II, in the name of standardization, compactness, and lower manufacturing costs. The real question is whether Apple's design philosophy is now consistent with its stated environmental goals. Are battery hassles a strategy for encouraging rapid obsolescence? Can glued-in parts be recycled safely and efficiently? Does the design deliberately discriminate against independent repair shops, something akin to an auto manufacturer trying to make its models serviceable only by authorized dealers with special equipment?
User modification is a big question in technology studies. I wrote about it a few years ago here. The open question is whether other makers of professional-grade laptops will emulate Apple's approach or make serviceability and user modification an issue, even at the cost of a few extra millimeters.