The Art of Industry: The Making and Meaning of Edward Burtynsky's New Exhibit, 'Oil'
"Photography is a way to mine ideas that are things."
"Photography is a way to mine ideas that are things."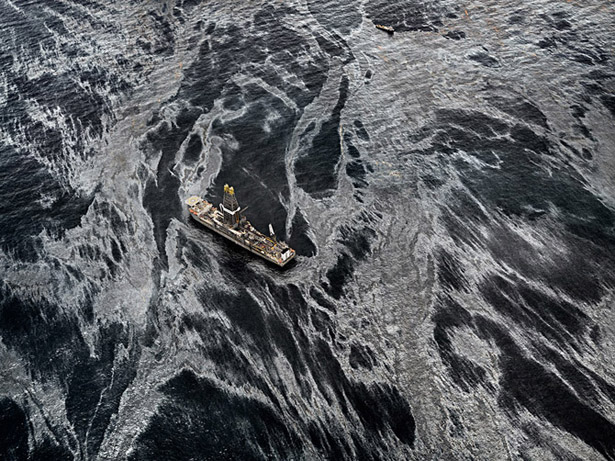 Venue's debut last week at the Nevada Museum of Art coincided with the premiere of a new exhibition there: Edward Burtynsky: Oil.
This thematic show, on display through September 23, features nearly 50 large-format images that, taken together, tell the story of oil, from its origins, extraction, and processing in the tar sands of Alberta or the first offshore platforms in Azerbaijan, through the spaghetti junctions and motorcycle rallies that represent oil's spatial, infrastructural, and cultural footprint, all the way to oil's afterlife in mountains of compacted barrels and broken tankers in the Bay of Bengal.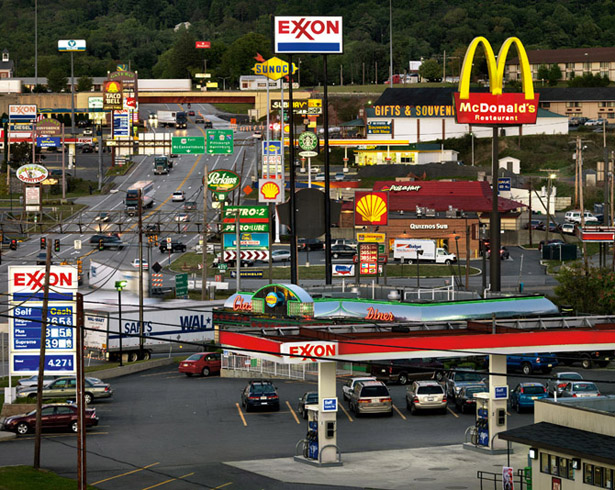 After a tour of the exhibition, followed by a lecture that introduced some of Burtynsky's most recent work -- a global portrait of the human relationship with water -- Venue set up in the Center for Art + Environment library for a conversation with Edward Burtynsky. We could not have asked for a more interesting subject for our project's inaugural interview.
The following edited transcript of our discussion ranges from drones to film-making, to the future of photography, to the response of Vermont quarry owners to Burtynsky's work, by way of truck beauty pageants, pipelines, and the unexpected challenge of photographing Niagara Falls.
* * *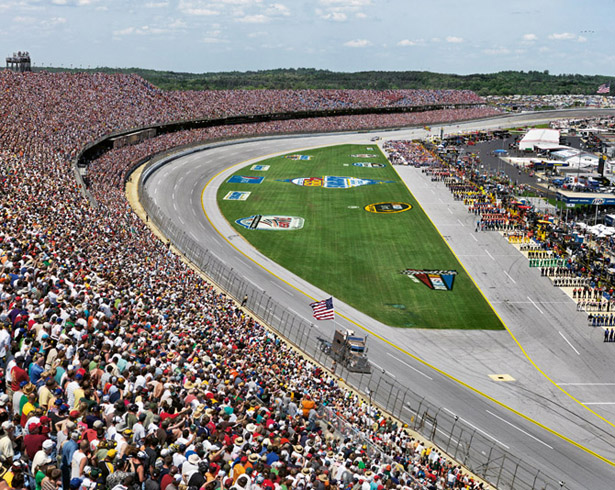 Geoff Manaugh: Particularly in your early work, there seems to be a focus on what I might call primary landscapes: looking at where the oil actually comes out of the ground, where the rock is physically cut from the quarry, or where our products are first assembled, and so on. But there's also a move, particularly in the Oil series, toward representing secondary landscapes -- landscapes of consumption, where the oil is burned in the name of a NASCAR race, or where truck drivers enter their big rigs in truck beauty pageants.
I'm curious, though, if you would ever be tempted to pursue your subject to the next step -- that is, to a kind of tertiary landscape. For instance, with your current water project, would you be tempted to photograph, say, a family eating tomatoes that were grown in a greenhouse in southern Spain or someone drinking bottled water at the gym? And if not, why not?
Edward Burtynsky: I haven't really thought of taking it to that tertiary place. I've always been interested in systems that are scaled out to the point at which the collective impact is visible, versus the individual act of consumption. In fact, I think it would be very hard to make an image of that act of individual consumption. It just doesn't fit into what I've been doing.
When I'm photographing these systems -- systems of extraction, or really just systems of urban expansion, in general -- what's happening is that I have an idea and I'm trying to find the best or most accessible stand-in for that idea. I'll look at many candidates, and very few will actually get photographed, and even fewer will make it through the editing process.
I've certainly gone to places like vegetable-packaging plants, but then I'm looking at bagged carrots en masse, rather than a single example of a carrot in somebody's refrigerator. In fact, I did a whole series on vegetable-packing plants back in 1982, and I got into the Heinz Ketchup plant and so on. To me, that's more interesting.
I think the key to my work is that most things I show are things that we rarely get in front of. We get in front of produce departments in grocery stores quite regularly, so there just isn't something I feel I can say about that that we don't usually know already.
Nicola Twilley: And the idea of showing these unfamiliar landscapes is to reconnect us to them?
Burtynsky: Yes, exactly. I'm looking for the disconnected landscapes that provide us with the materials we need to live, build, and do everything we do. Showing the greenhouses in Spain that provide fruits and vegetables for most of Europe is interesting -- but to actually show those vegetables on a counter is too far, I think. It's implied that we eat them at some point.
Twilley: Perhaps you'd actually rather have the viewer make that connection for themselves?
Burtynsky: I think so, yes.
Twilley: I'm curious about the challenges of making still images of what are very dynamic systems. For example, earlier this morning in your lecture here at the Nevada Museum of Art, you were describing the Kern oilfield as a very kinetic landscape; you talked about the flow of oil and the machinic soundscape. Are there aspects of these landscapes that you struggle to capture in still photography, and do you ever think of experimenting with film?
Burtynsky: Well, I am starting to work with film. I haven't filmed independently yet, but I am currently in the process of co-directing a film. It's following the project I'm doing on water, so, everywhere I go now, I've got a film crew with me.
Twilley: Are you working with them to document your photography process, or more as an additional way to document the water systems you're hoping to portray?
Burtynsky: Both. There are things that I'm taking still photographs of that probably aren't going to translate very well onto film, and there are things that I can't make stills of that are better suited to be filmed -- and then there are subjects that can handle both. I'm finding that there are elements of all three categories in the film we're currently working on.
I don't know if you've seen Manufactured Landscapes, but photography is the authoring thread through that film, and I want to do the same thing for water, too. In some ways, it's the stills that I'm making that are going to determine where the film goes. How we bring them into play in the actual movie is all part of the experience of going into the editing room and figuring out what makes sense where.
But when it gets down to making the film -- to the logic of the film -- I think all our doors should be open in terms of how to do it. I'm of the belief that you pursue your interests, you pull it all in, and you sort it out later.
Manaugh: It's clear that there's an environmental consciousness animating much of your work, but it's also true, I think, that there is a way of looking at your photographs of, for instance, large oilscapes that could read into them a kind of industrial heroism. In some of the works -- such as the footprints in the sand with oil bleeding through, or the ship-breaking yards -- the human presence seems to add a clear critical dimension. But in your shots of these often strangely beautiful, cathedral-like refineries, or even of the Talladega raceway, I'm curious how you manage to balance a kind of activist environmental agenda with photographs that might otherwise be seen as very formal or simply very aesthetic. Also, how does your use of other media, such as lecturing or film, work to make your critical approach more clear?
Burtynsky: I'd say, actually, that I've been careful not to frame the work in an activist or political kind of way. That would be too restrictive in terms of how the work can be used in society and how it can be interpreted. I see the work as being a bit like a Rorschach test. If you see an oil field and you see industrial heroism, then perhaps you're some kind of entrepreneur in the oil business and you're thinking, "That's great! That's money being made there!" But, if you're somebody from Greenpeace or whatever, you're going to see it very differently. Humans can really reveal themselves through what they choose to see as the most important or meaningful detail in an image.
I actually have a funny story about this. After spending about six years and two shows on the Rock of Ages quarries in Vermont, I wanted to do a trade with them: a print for some granite slabs to make countertops in my country house up North. I met with them and I brought ten of my favorite pictures of their quarries. Most of them were of abandoned sections of the quarries. So I rolled them all out -- and they were big, 40-by-50-inch prints -- and the whole board was there. And they were totally silent.
After this uncomfortable, pregnant pause, I said, "So... what do you guys think?" Someone -- I think it was the director of the quarry -- finally said, "Why would anybody want one of these?" [laughter]
I'd never really had it put to me in that way! I said something like, "Well, because they're interesting pictures and they talk about our taking of a resource from the land. It's about that accumulated taking -- the residual evidence of that taking -- and then nature bouncing back into that void. You can see it struggling back into that space."
And he replied, "These just aren't very interesting for us." Well, actually, he said, "These are a sorry sight for us, because these are places where we can't get any more stone out of the ground, and we have to go somewhere else. They're the end of the line for us. We wouldn't want to have to be reminded of that everyday."
I asked whether that meant the deal was off, and they said, "Oh, no, you can go photograph the latest thing we've found with all the machines still working on it." And I did. It never entered my oeuvre, but I photographed it and I got the countertops.
Twilley: So the quarry has an "off-label" Burtynsky, as it were?
Burtynsky: That's right. In fact, 80 percent of what the quarry produced went to make gravestones, so I blew up a big picture for them to take to a monument fair.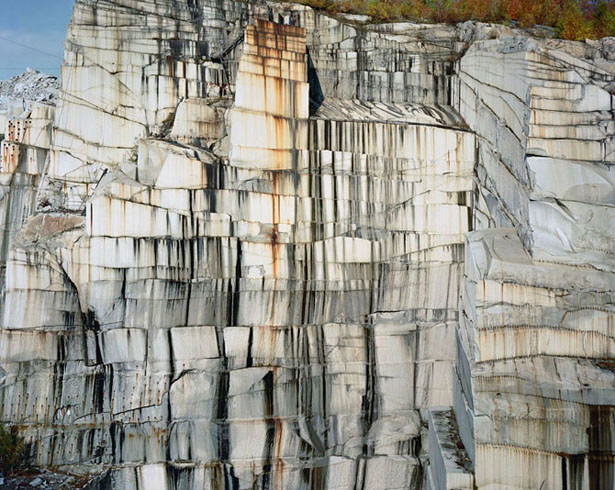 Twilley: The question of access is one I'm really interested in. Earlier, you said it took you three years to set up a photograph of the motorcycle rally in Sturgis, but I imagine it's even harder to get into places like oil refineries. Have you heard of any responses from the oil industry to your series?
Burtynsky: No, I haven't. I must say, for the most part, that the oil industry isn't very enlightened. In most cases, they said no when I asked to come in and make photographs, because they couldn't see an upside to letting me in. They couldn't see why. They could only see a downside.
One place I tried to get into is the Ghawar oil field in Saudi Arabia. Saudi Arabia supplies ten to eleven million barrels a day, and this one oil field -- the Ghawar -- is the oil field of oil fields. It produces five million barrels a day. I thought it would be great to have that as part of the project narrative. In terms of scale, Ghawar is it. There is no bigger oil field. Even all the tar sand activity in Canada produces between one and a quarter and one and a half million barrels a day, while the Saudis are able to produce five million barrels a day from one oil field. That one field is four times the scale of Canada's entire oil sands operation.
Twilley: But they said no?
Burtynsky: They said no. I went through a fairly lengthy process all the way to the very top, where I was talking to the minister of petroleum in Saudi Arabia. They basically said that they might have been interested if I had had more of a focus on the human dimension of oil -- the people who work there, and so on. They said they thought it was too detached and impersonal.
Manaugh: To go back to something you said at lunch yesterday, you mentioned that you consciously exclude green and blue from your photographs, and that, for the most part, you don't like to shoot in summer or at certain times of day. You also mentioned the way that the light during "the shoulders of the day" -- early morning and late evening -- makes space much more volumetric and filled with shadows, and that, conversely, shooting at high noon from 8,000ft helps minimize shadow. I'd love to revisit that conversation in the context of this interview and hear more about the role of color, light, and shadow in your work.
Burtynsky: I love the tones of browns and grays -- I love more neutral tones. That's why I like going to the desert and working in the desert. I find that green trees and things like that have a tendency to lock us into a certain way of seeing. When I look at green trees on a sunny day, I don't know how to make an interesting picture of that. We're familiar with that already.
Instead, I like the transparency that comes when leaves are off and you can look deeper into the landscape -- you can look through the landscape. When I did try to make those kind of green-tree/sunny-day pictures, I'd find myself not ever putting them up and not ever using them. Eventually, I just said, well, I'm not going to take them anymore, because they never make it past the edit.
There's a certain point where you learn from your own editing. You just stop taking certain pictures because they never make it through. Your editing starts to inform your thinking, as far as where you want to go and what you want to look for when you're making a photograph.
That what's different about me after thirty years of doing this kind of work -- there are a lot of pictures I don't have to take anymore. I think that's called wisdom -- learning what not to waste your time on!
Twilley: Do you have a ratio, or a sense of how many photographs you take vs. how many actually make it into the final show?
Burtynsky: My ratio has changed over time, certainly. I used to shoot 8 x 10 film, and, with that, my ratio was pretty high -- something like one out of six or one out of seven images would make it through. With 4 x 5, because it's faster and a little easier, which means there can be a little more risk-taking, my ratio would have been closer to one in twelve or one in fifteen. With digital, now, where everything is dematerialized and I'm up in the air, I'm shooting probably one to 100.
Twilley: Returning to the idea of avoiding blue skies and green trees, I was thinking back to your earlier comment about wanting to show us things that we don't usually get in front of, places and things that are unfamiliar. In a way, green leaves and blue skies are too familiar -- that's the nature we already know as nature.
Burtynsky: You know it already, so how do you say something new about it? It locks us into a cliché, or a genre of understanding. We immediately understand it, so there's nothing there.
I just came back from a conference on the future of photography, where we had an interesting conversation around this. One of the curators of a museum in Switzerland had invited students from any art school, anywhere in the world to submit work to be included in a survey of photography of the new generation. The one thing that was consistent in 1,200 submissions was that not one of the students was showing anything that had to do with spontaneity. Spontaneity was gone completely.
There were no pictures with light coming through the glass on the table or a Robert Frank kind of street photograph or a decisive moment photograph -- nothing like that at all. It was all very staged and all very deliberate -- not photography as the act of seeing the world or reacting to seeing the world, but rather a photography of crafting things in the studio. We didn't find one that varied from that, which I thought was fascinating.
We were wondering, why this is? In school, are they teaching that all the possibilities for taking photographs of reality and interpreting reality and reacting to reality in a spontaneous way have all been done? There seemed to be a feeling that there is no new narrative that can be found by pursuing that avenue of representation, and that they have to move into creating their own world.
Twilley: Perhaps it's also a response to the fact that everyone now has a camera on them at all times, and so those photos -- those spontaneous shots of decisive moments and everyday life -- are, in fact, being taken, but they've been claimed, in a sense, by iPhones and Instagram, so students need to do something different to be photographers today, rather than just people with a camera.
Burtynsky: That might be the case -- it could be a response to the way that we're all now awash in images. So how do you define yourself? That spontaneous way of making imagery has become an avenue that the next generation doesn't see as worthy of pursuit because it won't yield anything that the world hasn't already put out there.
I think there is an anxiety about the status of the photograph amongst the new practitioners coming in. I have certain anxieties, too, of course, but, I think because I've had such an arc of existing work that I continue to build on as an artist, that I don't feel as much anxiety about using the real world as my palette or as my template, to draw from. I don't feel compelled to start staging my imagery or moving away from recording "reality" on some level in order to achieve a deeper subjective experience, and I think it's because I came out of an analogue, more traditional way of approaching photography. Photography was a way to put a window onto the world and to enter into the world. For me, photography is a way to mine ideas that are things.
Manaugh: I'd like to ask another question about the future of photography. As a writer, something that always catches my eye are stories about how they're working on an artificial intelligence bot that can actually write a sports recap or a movie review on its own. The idea is that things like descriptions of football games are so formulaic that, in the future, a robot will write it, churning out sentences like, "Quarterback X threw for a certain amount of yards for a victory in the last quarter against team Y," and so on. In and of itself, this is culturally fascinating, of course -- but, as a writer, I am particularly fascinated by what it means for the future of my craft.
From the point of view of a photographer, then, it might seem equally interesting that there are now all sorts of new types of photographic systems on the rise -- quadcopter-mounted 3D scanners, drones, and even smart ammunition equipped with cameras that can loiter in an area taking aerial photographs. Simply on a technical level, I'm curious about where you see the future of photography going. Do you see a time when you're not going to be riding in a helicopter over Los Angeles but, instead, piloting a little drone that's flying around up there and taking photographs for you?
Burtynsky: I'm already doing it.
Twilley: You have a drone?
Burtynsky: Yeah. I use it to go into places where I don't have any air space. I work with a team. One guy runs the chopper, one guy runs the head, and I take the shutter release and compose. For example, there is no civil aviation space in China, so I was using it there. I used it to shoot the big dam area, and I used it to photograph agriculture.
So I am already using that technology. It offers new ways of entering into places that you would never have considered going -- or that you couldn't even go to -- before.
The pictures I've been taking of irrigation circles now as part of the water project -- that's something I think would not have been possible to do very easily even just five years ago. It would be almost impossible with film to splice those images together so well and not have it look weirdly distorted or problematic. With Photoshop, and with digital files, you've got contrast control, the removal of haze, color filtration, and all of that, so I'm able to do things that, again, were not even conceivable five years ago.
Manaugh: I'm curious about how you know when a series is done, when you've said all you wanted to say about a certain them or topic. For instance, I think you said that the water series will be finished in 2013 -- but how do you know when to put an end to certain things? Is it that there is literally a checklist of sites you want to get to, or is there a more subtle narrative sense of completion that you're looking for?
Burtynsky: Well, by 2013, I will have been working on water for almost five years. It's unlike a lot of my other series, in that I'm not doing any other projects right now. During the oil series, I did a whole series in China, and I still kept doing quarries along the way. I did a lot of other things while pursuing the idea of oil systems, and the kinds of landscapes that come from them.
For this water project, I gave myself a five-year time period and that's all I'm concentrating on. I've dropped quarries and I've dropped oil, pretty much -- except for the Gulf oil spill, which I saw as this historic-scale, crossover event with oil and water, a moment when the two liquids that I have been pursuing for so long were put into such an unhappy marriage. I thought it was worth the chance to go, to see them both in one place; and I think it worked.
But the 2013 date puts a hard stop on the project. It's not to say that I won't ever take more images of water -- or, for that matter, of oil -- but it's a chance to consolidate the work, to put a book and movie together, and to put something out there for people to react to and see. I don't think it means that either oil or water will be closed off the way I closed off quarries.
In fact, it's interesting that once I move away from a series, I can go by those landscapes all day long and I won't see them anymore. It's like I've just switched it off. I know it's still there, of course, and, if I went back, I could still find those kinds of things again; but I don't look for them anymore. To me, the photographic image is an idea that you put into your consciousness, and then you go out in the world in search of manifestations of it. It's a very idea-driven process--but that also means than, once the idea is expressed, I don't necessarily go looking for it anymore. I've done it.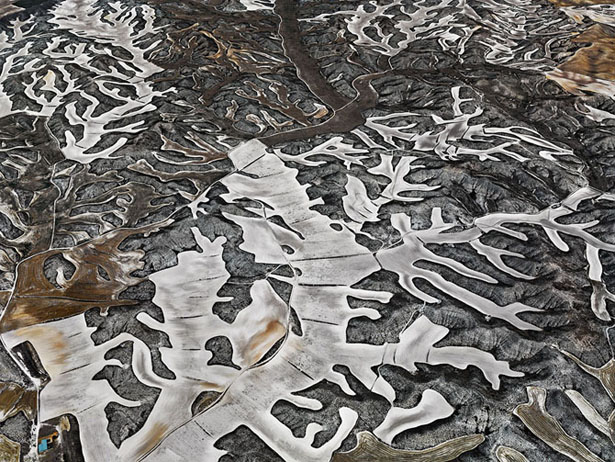 Twilley: I want to end with a question about where the water project is going next, and, in particular, whether there's any aspect of water that is proving particularly tricky to capture or perhaps more productive than you originally expected?
Burtynsky: Probably the trickiest bit right now is source: where water comes from. It's so riddled with clichés. That's actually where I might end up using film, because it might be able to carry the cliché better than still photographs.
I also gave myself another challenge, which is something I grew up next door to: I've been trying to figure out, is there any way I can photograph Niagara Falls without making it a cliché? And I haven't done it yet. Andreas Gursky shot the Maid of the Mist and it was very postcard-y -- but I think he meant it to refer to the postcard tradition. I'm working on it, and I'm trying to figure it out, but it's hard. I keep looking at Niagara Falls, thinking, "Great. Now what?"