On Bradbury: 'Whenever a Light Blinked Out, Life Threw Another Switch; Rooms Were Illumined Afresh'
At his best, Bradbury wrote stories that speak to what it means to be human.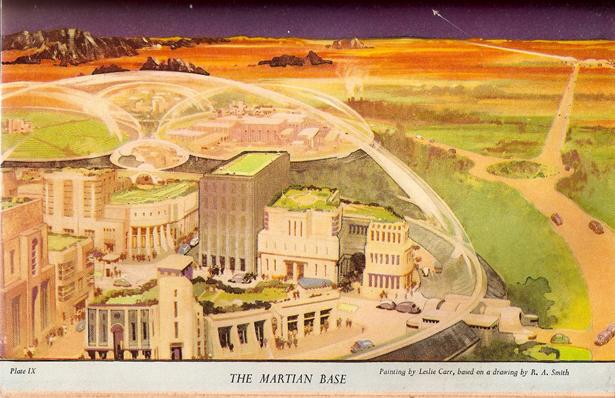 Leslie Carr/Paleofuture
In Ray Bradbury's short story "There Will Come Soft Rains," published in The Martian Chronicles in 1950, an automated house takes care of its missing inhabitants. It makes them breakfast, sets up the bridge tables, reads them poetry -- and when a tree falls on the house, the house goes into insane overdrive, toasting loaves and loaves of bread and catching on fire. The story updates a poem of the same name by Sara Teasdale about nature outliving, and even ignoring, the destruction of humanity, with a twist: our machines might survive us, but not for long.
Ray Bradbury, who died this week at 91, wrote vivid stories that are hard to imagine not knowing. The arcs and cadences of Bradbury's writing are particularly indelible in his short stories rather than his novels: Bradbury could create and destroy a world in 15 pages. His stories took risks and never avoided strong emotions and a strong theme -- strategies he borrowed from the popular fiction of the 1940s and 1950s, when he wrote much of his best work. Bradbury used those tools of emotion, pacing, and moral certitude to limn spaceflight, carnivals, robots friendly and murderous and something else, childhood (boyhood, really), autumn, family love, and horror.
While Bradbury used love, anger, fear and despair, he also reveled in subversions of sentimentality. In The Martian Chronicles' "Third Expedition," astronauts arrive on Mars to find not fantastical landscapes but a small midwestern town, with a main street and Victorian houses and sheet music for "Beautiful Ohio" and their dead relatives. They throw themselves into life there, and find that the telepathic Martians have set a trap using their own nostalgia as bait. In "Kaleidoscope," a dying astronaut becomes a macabre shooting star to wish on.
Some of Bradbury's stories are instantly familiar. In "The Sound of Thunder," time travelers who kill a small insect while on a dinosaur safari have plunged their own society into fascism, the butterfly effect that is now a time-travel truism. "All Summer in a Day," in which a girl is locked in a closet and misses Venus' one day of sunshine for every seven years of rain, speaks not only of the cruelty of childhood but of the transformative power of joy. And, of course, Fahrenheit 451, Bradbury's 1953 novel about a fireman who does not fight fires but instead burns books, is taught in innumerable high schools.
Bradbury was not always a good interpreter of the relevance of his stories to our culture. He held that we had all misinterpreted Fahrenheit 451; it was a story not about censorship but about the dangers of mistaking television for real life. The book certainly speaks presciently of huge flatscreen walls and seductively real shows but is also, undeniably, about the burning of books for their dangerous knowledge. And in Bradbury's stories, with few exceptions, the people who go to space are the same people that populate his deceptively idyllic midwestern towns. His few stories about race are extremely heavy-handed, and his women characters are often underwritten and stereotyped. His work was the socially acceptable science fiction of postwar America, published in the glossies as well as the pulps, and his politics are of that era. From Bradbury to, for instance, Joanna Russ' We Who Are About To (1977) where a woman refuses to help "repopulate" a planet her ship has crashlanded onto, there is a very deep chasm indeed.
Bradbury at his best, though, wrote stories that speak eloquently about human lives. In "Powerhouse," which appeared in his 1953 collection The Golden Apples of the Sun, a woman on her way through the desert to see her dying mother takes shelter in a power station, where she has a transcendent experience of the power of machines, of nature, and of human connection.
The dynamo had whirled and flung her with centrifugal force out along a thousand lines into a million glass capsules screwed into ceilings, plucked into light by a pull of a cord or a twist of a knob or a flick of a switch.

The light could be in any room; all that was needed was to touch the switch. All rooms were dark until light came. And here she was, in all of them at once. And she was not alone. Her grief was but one part of a vast grief, her fear only one of countless others. And this grief was only a half thing. There was the other half; of things born, of comfort in the shape of a new child, of food in the warmed body, of colors for the eye and sounds in the awakened ear, and spring wild flowers for the smelling.

Whenever a light blinked out, life threw another switch; rooms were illumined afresh.
Thanks to Megan Dosher for invaluable assistance, and to Adam Rothstein for reminding me of "Kaleidoscope."