Japan: The Country Where 59% of Households Still Have a Fax
For a mix of reasons, more than half of Japanese households still have fax machines and businesses say they are a "required communication tool."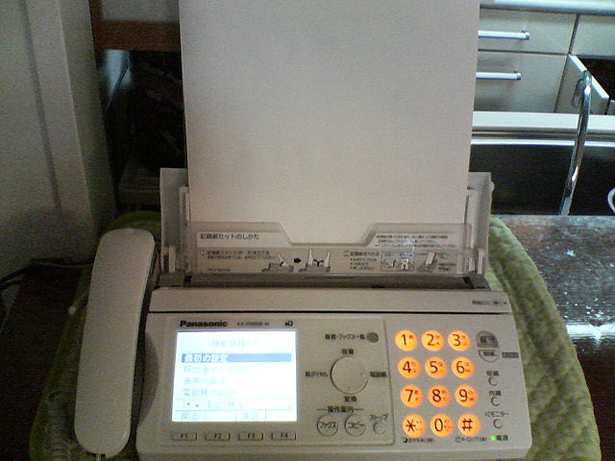 &_yo/Flickr
"You want me to fax it? Right."
In the United States, the standard reactions if you ask someone to fax you something are despair, bemusement, and outright hostility. The fax machine, once the cutting-edge of our communication technology, is the joke of the modern office.
But not in Japan, reports The Washington Post. There, the fax machine perseveres: According to the Post "business people call the fax a required communication tool, used for vital messages, often in place of e-mail," and 59 percent of households have one. The comparative figure for American homes is unknown "but even in the early 1990s, only about 3 percent of U.S. homes had the machines," a Texas A&M professor told the Post.
For most industrialized nations, the arrival of e-mail quickly heralded the beginning of a very slow decline for fax technology. But for a mix of reasons, Japan hung on. First, there's language: Early word-processing software couldn't work with kanji, Japanese characters, so handwriting (and therefore fax) was the best way to transcribe and send messages electronically. Additionally, Japanese document seals -- used much like a signature -- are often required for paperwork. Finally, high-speed Internet has remained costly in Japan, pushing much of the communication we do online to either mobile or ... fax.
This isn't just anecdotal evidence either. According to the most recent statistics available, Japan has more than 93 faxes per 100 people in the country. The U.S., by comparison, has only 55 (mostly for businesses), and many comparably developed countries like the United Kingdom have just 25.

The anachronism of fax machines in a modern nation like Japan leaps across the Pacific and amuses us. In contrast, it's easy to see our own technological trajectory as linear and supra-cultural. But Japan's fax machines remind us otherwise. As Australian historian Carroll Pursell writes:
An obsession with 'innovation' leads to a tidy timeline of progress, focusing on iconic machines, but an investigation of 'technology in use' reveals that some 'things' appear, disappear, and reappear.
I wonder what people in Japan think about American TI-83 graphing calculators -- our own anachronism, clinging on not because of its technological prowess, but because of a set of cultural, institutional, and economic forces that we know as America.