It Takes More Than 3 Gallons of Water to Make a Single Sheet of Paper
... and more mind-boggling stats that hint at a Waterworld future
... and more mind-boggling stats that hint at a Waterworld future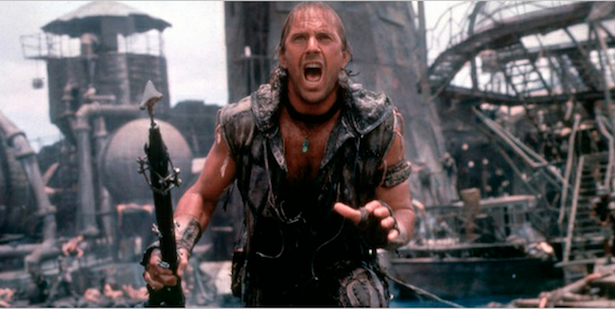 Universal Pictures
Here's some scary news: Kevin Costner has been right the whole time.
Well, about water, anyway.
While we already know that water -- like pretty much everything else on the planet -- is a limited resource, what can be less clear is how much of the substance is required to manufacture even the most basic of items. Products that would seem not to involve any water at all -- or very, very little of it -- in fact have a significant water footprint. Because, basically, it's water all the way down: To make a piece of cheese, you need to feed your cows, which requires wheat, which requires water. Same deal for beef and for leather shoes. Even veganism isn't fully water-virtuous: Cotton, for example, tends to be grown in arid climates, which in turn demand high volumes of water to keep the plants flourishing.
The site Imagine All the Water would like to remind you of how much water you're using even when you're not taking a bath or brushing your teeth. Sponsored by the European Commission, the site brings together a mind-boggling array of estimates about the overall amount of water required to create everyday consumer products. Though the site's purpose is advocacy -- essentially, to scare us into a water-conservational mindset -- it also offers a useful reminder of how crazily resource-intensive the most ordinary objects can be.
Below, the water requirements for some of the things you might be wearing/eating/using right now:
One pair of shoes: 2,257 gallons
One pair of jeans: 2,636 gallons
One chocolate bar: 454 gallons
One piece of beef: 4,000 gallons
One hamburger: 632 gallons
One plain-cheese pizza: 321 gallons
One slice of cheese: 40 gallons
One pint of beer: 45 gallons
One cup of coffee: 35 gallons
One apple: 22 gallons
One loaf of bread: 13 gallons
One sheet of paper: 3 gallons
via Gizmodo