Is the Twitter Bird Extinct? (No, Really, Like the Species of Bird)
That's the contention of a San Francisco Zoo penguin keeper, who says it looks like a flightless passerine, none of which survive today.
Twitter
The newly released Twitter logo got the full dress-down yesterday for being a snooty little twit but the bird may have bigger troubles yet: Extinction.
No really. Okay, no actually not really, but hear this out.
Over at Quora, Anthony Brown, penguin keeper from the San Francisco Zoo, has noted that the blue bird resembles a passerine, one of the most common orders of birds in the world. Sparrows, swallows, and thrushes are all passerines.
But the Twitter bird is not just any passerine, Brown notes. Based on the appearance of its wing feathers (only three) and its bodily proportions, the bird appears flightless -- "despite," Brown writes, "what its stance is alluding to." Trouble is, there are no living flightless passerines. The known species, such as the Stephens Island Wren pictured below, are all extinct.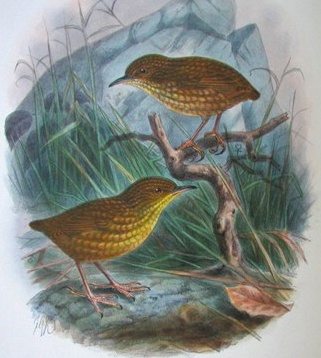 All of this makes Twitter's explanation of it's new logo laughable/sad:
Our new bird grows out of love for ornithology, design within creative constraints, and simple geometry. This bird is crafted purely from three sets of overlapping circles -- similar to how your networks, interests and ideas connect and intersect with peers and friends. Whether soaring high above the earth to take in a broad view, or flocking with other birds to achieve a common purpose, a bird in flight is the ultimate representation of freedom, hope and limitless possibility.
RIP Stephens Island Wren. RIP Twitterbird.