The company may finally be rolling out a way for people to express (commercial) desire.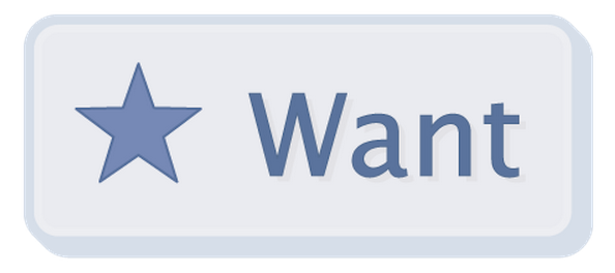 WANT. 
Of the many long-standing rumors about Facebook, one of the longest-standing is the site's imminent introduction of a Want button. Facebook, the rumor always goes, will be adding granularity to its current Like/Recommend/Subscribe suite of buttons -- and the Want button (as opposed to the also-rumored Read, Listened, and Watched buttons) will allow Facebook users to announce what they're liking in a purely commercial context. Think Pinterest meets Amazon meets the Open Graph. Desire, commodified -- with a click.
Today, the Want button rumors are one step closer to being confirmed. The developer Tom Waddington has looked into Facebook's code, and has discovered a new tag: <fb:wants>. Waddington did some sleuthing to find the tag -- the Want button isn't publicly listed with the other social plugins on Facebook's developer site, and Waddington notes that the button will work only on Open Graph objects marked as "products." It's also, of course, currently disabled on Facebook. Though Waddington found a way to render the button on his own site, clicking it, he notes, leads to an error message.