How Facebook Can Make Money (in One Word)
The company may finally be rolling out a way for people to express (commercial) desire.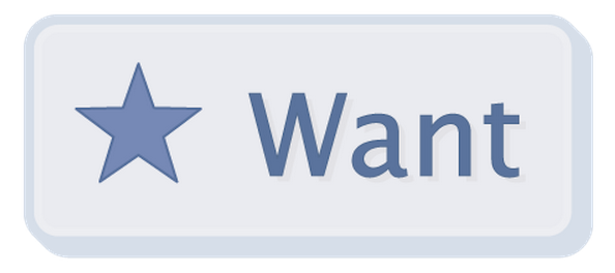 WANT.
Of the many long-standing rumors about Facebook, one of the longest-standing is the site's imminent introduction of a Want button. Facebook, the rumor always goes, will be adding granularity to its current Like/Recommend/Subscribe suite of buttons -- and the Want button (as opposed to the also-rumored Read, Listened, and Watched buttons) will allow Facebook users to announce what they're liking in a purely commercial context. Think Pinterest meets Amazon meets the Open Graph. Desire, commodified -- with a click.
Today, the Want button rumors are one step closer to being confirmed. The developer Tom Waddington
has looked into Facebook's code
, and has discovered a new tag: <fb:wants>
. Waddington did some sleuthing to find the tag -- the Want button isn't publicly listed with the other social plugins on Facebook's developer site, and Waddington notes that the button will work only on Open Graph objects marked as "products." It's also, of course, currently disabled on Facebook. Though Waddington found a way to render the button on his own site, clicking it, he notes, leads to an error message.
Here's what it looks like, though:

And, via Inside Facebook, here's more on how the button might work:
With Open Graph, developers have been able to create their own "want" actions, but users have to authorize a third-party app in order for those buttons to generate stories on Timeline and News Feed. If the Want button plugin works similarly to the Like button, users will not have to go through the step of authorizing an app. This means even more users will be likely to click it.
Facebook hasn't confirmed a rollout plan for the Want button plugin. And, if it's coming, the company may well be developing the Want button as part of a broader movement toward button granularity on the site and across the Open Graph: Want may roll out with Watched and Read and similar buttons. Which would be both practical on Facebook's part -- if the company is looking to buttons to create an architecture of user behavior, it might as well double down on them -- but also slightly cynical. I care much more about what my friends are reading and listening to and watching, after all, than I care about what they're coveting at Crate and Barrel. Of all the categories that signal people's desire and activity on the Internet, commercial cravings are among the least valuable to users.
But they're probably, of course, among the most valuable to Facebook.
And if Facebook has indeed developed the infrastructure for a Want button, launching it now or now-ish would make sense. The company, first of all, is in need of some forward momentum -- something big and bold and game-changing -- after its IPO debacle. (And after, this past week, it angered users by automatically -- and without warning -- switching the email addresses they'd noted in their profiles to @facebook.com addresses.) Even more significantly, though, the company is in need of a new revenue stream -- a stream that does not involve, or only tangentially involves, advertising. A report released this week found that Facebook's U.S. advertising growth has slowed to a third of what it was in 2011. And its share of the display ad market has dropped from the 14 percent it had at the end of 2011 to, now, 12 percent.
That's not to say that Facebook won't be able to profit from ad sales; it's to recognize, though, what the company already knows: that display ads alone likely won't be enough to ensure Facebook's financial success. And -- possibly -- that ads alone won't be enough to ensure Facebook's financial success. The market's already been saturated, and by no less a competitor than Google. And added to that challenge are the insecurities surrounding Facebook as a platform for display ads in the first place. The arc of advertising, it seems, bends toward targeting; display is a blunt instrument compared to its more customized counterparts. GM's defection could well be the start of a wider revolt.
Facebook, essentially, has two major sources of value: attention and information. Ads, whatever form they may take, capitalize on attention -- of, at this point, nearly 1 billion people across the world. Actions, on the other hand -- user activity on the site and on its Open Graph, as guided, often, through buttons -- collect troves of data about people, their relationships, and their movements. The kind of data that are their own form of currency -- and that can, in turn, be monetized. A Want button promises to capture a potentially even more lucrative category of data: information about people's desires themselves. For the many, many people who want to sell you stuff on the Internet, this is the ur-category. Employed over time, it would offer a treasure trove of information to producers and marketers, whose own desires have always come down to the same question: What do people want?