Hey, World: Matt Harding Would Like You to Teach Him How to Dance
"Dancing Guy" strikes again -- in the best possible way. 
If Matt Harding's name isn't familiar to you, his dance moves might be. Harding is better known as the star of the YouTube video "Where the Hell Is Matt?" -- and, in that, perhaps best known as Dancing Guy. Capital D, Capital G. In 2005, Harding posted a YouTube video of himself dancing -- well, "dancing" -- in locations across the globe, celebrating his presence in each spot by doing what can only be described as a manically maniacal jig.
"Where the Hell Is Matt?" is totally joyful and totally charming, and, with its "We Are the World"-meets-"Jackass" vibe, it went totally viral. The original video has nearly 3 million views. Harding, newly minted YouTube Celebrity, followed up that original piece with another, in 2006, along the same lines: jiggy and jiggly and jolly. Together, the videos treated Harding's dance as an awesome little metaphor -- for fun, for community, for traveling, for the great things that can come when people get together and make fools of themselves. The New York Times called the video "an almost perfect piece of Internet art." And it made Matt Harding, Dancing Guy, into the best kind of Internet meme: an earnest one.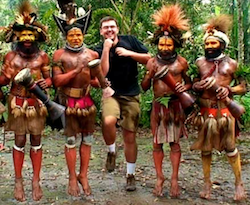 But if you're Matt Harding, Dancing Guy ... what do you do next? Do you try to outdo yourself, or to parlay your web celebrity into something more? Do you settle into a life of TED talks and ROFLCon appearances? Or do you go about your amemic existence, putting your YouTube days behind you?
Today, Harding offered an answer. And he took the first route: He released a new video. But this one isn't just another celebration of Harding's goofiness. It's a celebration of ... other people's goofiness. The new video shares a name with its predecessors -- "Where the Hell Is Matt?" -- but it depicts Harding having abandoned his joyful jig. And having adopted, instead, the native dances of the places he visits. He tries ballet; he tries the waltz and the flamenco and the robot. He tries cheerleading. He tries juggling. He tries ballet again.
More to the point, though, he learns those dances. Or, at least, he tries to. The "look at me" exuberance of the past videos has evolved into exuberant humility in the new one. The scale of the video itself is different now; the montage is not about Harding in new contexts so much as it's about the contexts themselves. Matt Harding, world-wandering Internet meme, is now simply a supporting -- and supportive -- actor. As MIT's Ethan Zuckerman put it, "Matt goes from dancing around the world to dancing with the world."
Which is itself a pretty great move.