Hey, Brother, Can You Spare a Hubble? DOD: Sure! Have Two
That's right. Our military had two, unflown, better-than-Hubble space telescopes just sitting around.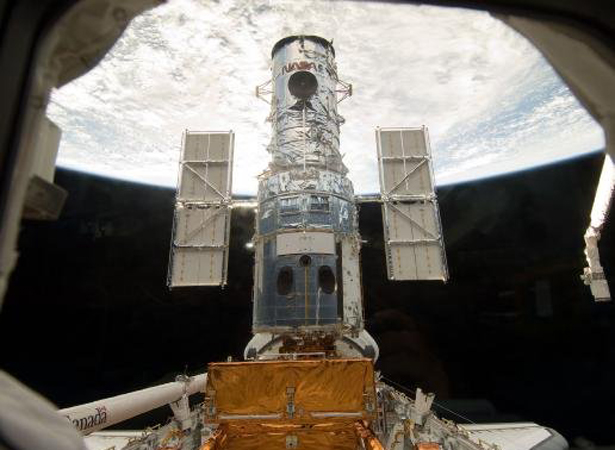 NASA
NASA's been wracked by budgetary concerns as it tries to figure out how to do research into the origins of everything *and* loft human beings into orbit with big rockets. In particular, the space agency has been dealing with cost overruns on the next-generation Hubble, the James Webb Space Telescope, which have been eating up the science budget.
Now, we get word from the Washington Post that the Department of Defense has gifted two better-than-Hubble telescopes to NASA. That's right. Our military had two, unflown, better-than-Hubble space telescopes just sitting around. This story is almost unbelievable; it feels like a hoax. But it's not.
The U.S. government's secret space program has decided to give NASA two telescopes as big as, and even more powerful than, the Hubble Space Telescope. Designed for surveillance, the telescopes from the National Reconnaissance Office were no longer needed for spy missions and can now be used to study the heavens.
Three thoughts here.

RELATED VIDEO

First, hooray! NASA needs all the help it can get, especially around its scientific missions, which get dwarfed by the space-travel components of its work. Plus, Hubble's quality is going to start deteriorating in the coming years, so these are nice to have.

Second, if the DOD didn't need these two birds, which are both better than any civilian telescope, what *do* they have? Are drones replacing space telescopes? Are there much better telescopes already up there?
Third, how did this happen? Were two satellite scientists out at brunch and the military lady turns to the civilian guy and says, "You know, we have a couple telescopes in the shop, if you guys need them."

Of course, like any good gift, these telescopes do come with a catch. NASA has to outfit them with cameras and instruments. NASA also has to come up with the money to pay the scientists to run them. To get that done could take until 2020, the Post says.
This is the state of our military-industrial-scientific complex in miniature: The military has so much money that it has two extra telescopes better than anything civilians have; meanwhile, NASA will need eight years to find enough change in the couches at Cape Canaveral to turn these gifts into something they can use. Anyone else find anything wrong with this state of affairs?