From Any Page on the Web, See the Reddit, Twitter, and Hacker News Conversations With One Click (Sometimes Two)
If you love the content of one site (The Atlantic, say) but the chatter of another (Reddit, ahem), have we got a bookmarklet for you.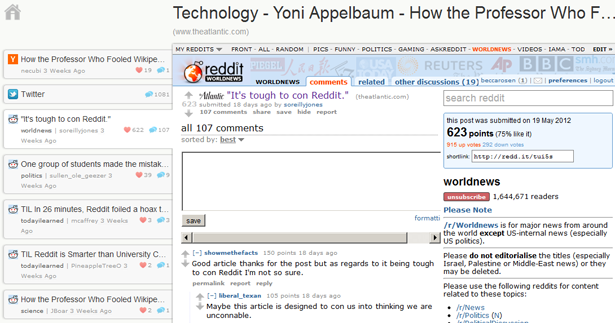 Reactions Bookmarklet
Perhaps you are someone who loves rambling around the Internet finding awesome stuff. And, perhaps, when you find that good stuff, you want to chat about it. But the comments sections of many websites can be a drag, and even for those sites that have great comments sections, perhaps you want to see not just what anyone is saying about it, but what Redditors or Hacker News denizens are. So you head over to those sites and look for those stories, find the conversations you want.
Not that this is so arduous, but a cool new bookmarklet called Reactions streamlines the whole process, opening a new tab that contains embedded Reddit, Hacker News, and Twitter conversations relating to any URL. You just install the bookmarklet in your browser and click it when you're on a page you want to discuss. If the link hasn't yet been submitted to Reddit or Hacker News, you can submit it right there. Above, a screenshot of the tab that opens for a recent Atlantic story by Yoni Appelbaum that was widely discussed on these sites.
In a thread discussing the tool on Hacker News itself, a few people noted that it wasn't working perfectly -- missing related conversations and opening the "submit" frame instead. In fact, ironically, Reactions doesn't seem to know that the conversation about Reactions exists on Hacker News.
Often Reddit and Hacker News and Twitter, to some extent, are thought of primarily as social discovery sites -- places where you can browse the collective great finds of their users. But this bookmarklet highlights another appeal of these hives of Internet activity: that as far as Internet chatter goes, they are among the best -- consistently smart, enthusiastic, and fun. With Reactions, you can bring those conversations right to the place where you read, and make them a more integral part of your Internet experience.