For a Few Minutes This Morning, President Obama Thought Health Care Had Been Overturned
The president was confused by cable news -- just like the rest of us.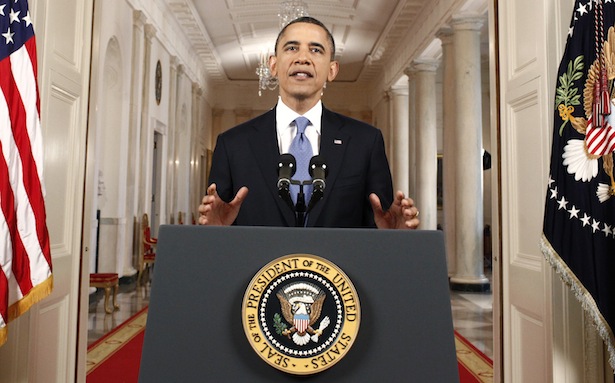 This morning, at just after 10 am Eastern time, President Obama was doing exactly what millions of his fellow Americans were doing: watching the news, waiting for the Supreme Court's health care decision.
Unlike his fellow Americans, though, the president was watching the proceedings from the White House, just outside of the Oval Office itself. The Outer Oval has a television whose screen is split into four sub-screens: one for each of the four major cable networks. Which meant that Obama and his chief of staff, Jack Lew, were watching the graphics of all four networks as the Court announced its decision. Which meant that Obama saw the gun-jumping reporting offered by CNN and Fox: the announcement that the Court had struck down the individual mandate. Which meant that Obama thought, for a minute -- just like the rest of us -- that the cornerstone legislation of his presidency had been overturned.
Here's more on the scene from ABC News's Jake Tapper:
The president saw graphics on the screens of the first two cable news networks to break the news -- CNN and Fox News Channel -- announcing, wrongly, that he had lost. Senior administration officials say the president was calm. [Ed: Obviously.]

A couple minutes later, White House counsel Kathy Ruemmler came to Outer Oval and gave him two thumbs-up. Ruemmler had gotten the correct information from a White House lawyer at the Supreme Court and from SCOTUSblog.com.

"The Affordable Care Act has been upheld by the court," Ruemmler told the president, a senior administration official recalled. "There were five votes finding it valid under Congress's taxing power." 

 There was some "cognitive dissonance" given what was on the cable news screens, an official said.
"Cognitive dissonance"! One assumes, No Drama notwithstanding, that that's an understatement: It's hard to imagine a more tense situation than seeing all your work lost -- and then won again -- in an instant. Whatever the president and his staff had prepared to experience this morning, they probably hadn't anticipated "utter confusion." And it's worth noting that it was SCOTUSblog, the upstart web phenomenon, that ultimately informed even the president himself. It's worth noting as well -- for those who like their historic Supreme Court decisions with a little side of theater -- that as the real ruling became clear, and as dissonance dissolved into excitement, the scene in the Outer Oval got just a little more Sorkinesque. "The president hugged Ruemmler," Tapper reports. "He then called Solicitor General Donald B. Verrilli to congratulate him."