The dream of the self-driving car was born long before GPS came along.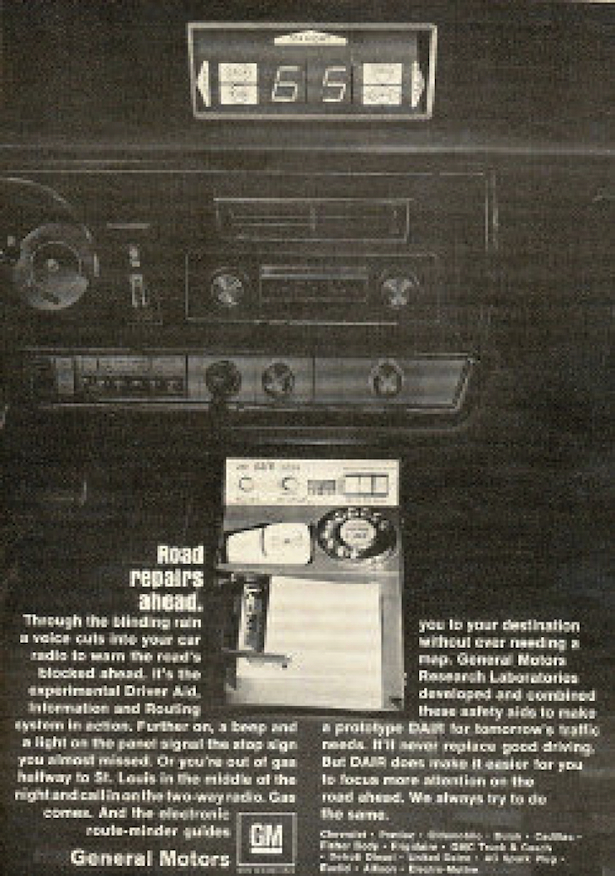 We are entering the age of the computerized car. Our vehicles, increasingly, speak to us. They listen to us when we speak to them. They alert us of danger, and protect us -- or try to -- when their warnings have failed. Sometimes, they even do the driving for us, insisting that computer and car can be one and the same. Last week, Ford opened its new Silicon Valley research lab -- a facility that will focus on, among other things, "big data" and "user experience" as they relate to the automobile.
This all seems very new and very now, and it's tempting to assume that the car as a technology -- with apologies, obviously, to the Delorean -- is set for its biggest disruption since the first Model Ts rolled off Ford's belts. It's worth remembering, though, that all this newness isn't fully new: the tech-driven updates that seem completely novel to us today have in fact been around for years. Just in relatively simplified form. 
Take General Motors. Half a century ago, in 1966, the company developed a product it called its Driver Aid Information and Routing system. The system was essentially a fusion of proto-GPS and roadside communications -- the precursor to all the ease-of-driving automation we're so excited about today. Except, of course, the system didn't use computers. It used punch cards. The driver would insert a punch-coded card into the DAIR device, and the holes in the card would translate to mechanical movements in the car itself, directing the driver. Much like present-day navigational systems, the DAIR was designed to perch on the hump of the car, between the driver and the driver-side passenger seat -- where today's cupholders would be -- with a message center for the driver resting on the car's dashboard. (The picture above, though a bit blurry, gives a pretty good idea of what the thing looked like in action.)