Dystopia: What a Game of Civilization II Looks Like After 10 Years
An apocalyptic future trajectory for the world, as reflected in a beloved old comptuer game.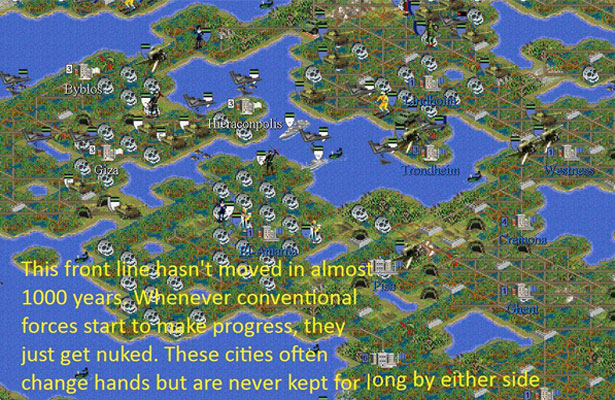 I grew up playing the computer game Civilization and its successors. The games provide kids and adults alike with a playable introduction to world history: You come up with metallurgy, invent religions, discover the forms of government, war against neighboring countries, etcetera.
When I was a kid, it felt like some expansive History of All Time, except that it was a turn-based computer strategy computer game. Which is why a 10-year game of Civilization II has struck a chord around the Internet today: if you could learn a history of western civ from the game, then its vision of the future feels oddly significant.
Here's what happened. Some human being kept playing the same game for a decade and then posted screenshots to Reddit along with a narrative explanation of where the gameworld stands. Lycerius, the user, begins his history of the future:
The world is a hellish nightmare of suffering and devastation.

There are 3 remaining super nations in the year 3991 A.D, each competing for the scant resources left on the planet after dozens of nuclear wars have rendered vast swaths of the world uninhabitable wastelands.
He goes on to note all the awful things happening in the world. But what's most amazing is that he really wants to end the war and bring the world back.
"My goal for the next few years is to try and end the war and thus use the engineers to clear swamps and fallout so that farming may resume. I want to rebuild the world," he concludes. "But I'm not sure how. If any of you old Civ II players have any advice, I'm listening."
Now, of course, the Reddit community has decided to help him find ways to end the war. They've started up a new discussion thread solely dedicated to the topic: /r/theeternalwar. We look forward to world peace.