Detecting the Strange Connection Between Where You Are and What You Are
A new art expedition aims to record qualitative and quantitative data with a custom-built set of tools on a year of trips through some of the most fascinating places in America.

I want to introduce you to an incredible new project that we'll be featuring here on The Atlantic over the next year. It's an art roadshow, an exploration of America, a traveling pop-up installation, and a data-logging machine. It's called Venue and it's one of the most exciting projects I've seen in years and years. For me, it recalls the almost-reckless experimentation of the media collective Ant Farm, which I think anticipated our strange and wonderful Internet. But what makes Venue special is that it is not nostalgic or a reconstitution of previous attempts to document what this continent is. This is something new and weird and brilliant.
Let me tell you about it.
Technically, Venue is a project of the Center for Art + Environment at the Nevada Museum of Art, Future Plural, and Columbia University GSAPP's Studio-X NYC.
Practically, it is the brainchild of Nicola Twilley (of Edible Geography) and Geoff Manaugh (of BLDGBLOG), partners who co-direct Studio-X NYC. In different phases, Twilley and Manaugh are going to travel the country taking down different kinds of data. They'll be interviewing people and doing public events and taking different types of measurements with various custom-designed instruments.
In an interview with Wired, Nicola called their mission to take "a cultural core sample." Geoff compared it to the surveying expeditions of yore, which set out into some kind of unknown and turned it into information through instruments, trigonometry, and grit.
But it's easier to show you than tell you about it because I doubt you'll have seen anything like this expedition. I know I haven't.
Up first, we see their very low-frequency antenna, which they built from a kit developed by Stephen McGreevy with Christopher Woebken's design. The antenna captures the sounds of spaceweather, the nice name for the environmental conditions created by the sun casting particles at the Earth. As Geoff told me, "You can walk right up to the tripod, put on green headphones, and zone out to the otherworldly whistles and pops of the Earth's magnetosphere."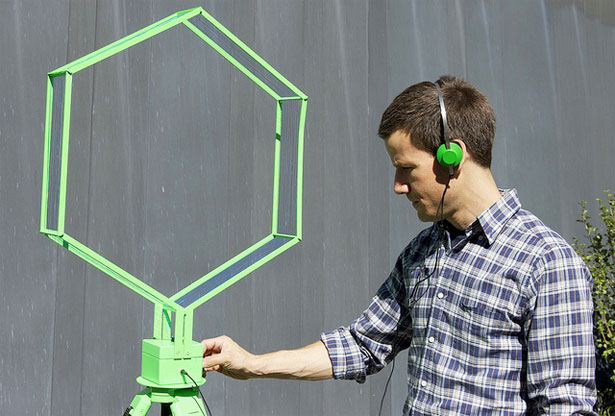 This here is a special device called a cyanometer. It measures the blueness of the sky:
This is Nicola's design based on the Institute for General Theory's. This is how it works:
The cyanometer is an incredible piece of graphic design: various shades of blue, or cyan, are arranged in a square that's then held up to the sky. With the center of the paper cut out, you can gauge by direct approximation which shade of cyan matches the sky above--from overcast white to cloudless summer blue--and the results, equal parts poetic and scientific, will be noted in our logbooks.
They won't solely be measuring the landscapes they're crossing either. They'll also be introducing their own interventions. In particular, the duo is packing a radar reflector designed to be the opposite of stealthy. Here's Geoff again:
While radar profiles are usually seen as something to reduce or minimize in the pursuit of stealth, it's interesting to look in the opposite direction, at objects that maximize their own radar reflectivity and thus punch above their weight, so to speak, in the landscape. We're pretty captivated by the idea of objects that, when introduced into otherwise barren, apparently empty terrains, produce outsize results when seen through radar; you can imagine a series of all but invisible objects that nonetheless ping back at near-Godzilla scales, their radar profiles creating a kind of parallel landscape nested inside the one you can actually see.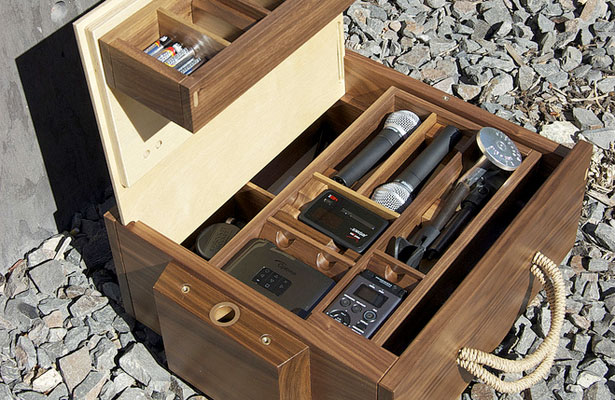 And outside of their custom instruments, they'll have a standard crazy scientist's cabinet of wonders:
A Sony camcorder
Two DSLRs (one Nikon, one Canon!),
A Marantz audio recorder with two Shure microphones (according to the Museum's executive director, we have the exact model used by Mick Jagger)--
Some bonus Lomo film cameras (a super wide-angle panoramic Sprocket Rocket and their 360 Spinner)
A wind sock
Some iPhone apps (an ambient noise meter and an altimeter)
A Gaussmeter (for measuring magnetic fields)
A pocket projector (for slide shows and screenings)
A matched pair of infrared and normal cameras plus helium balloon for aerial surveys and vegetation analysis from the Public Laboratory.   
So what's the point of all this?
I drove a thousand miles across California, Nevada, Utah, and Wyoming yesteday, possessed by the sky and the land. Along the Bonneville Salt Flats, people turn every spare rock into a human symbol, using the vast expanses of white salt as canvas for communications deep and mundane. On those same flats, other people try to drive cars past the speed of sound. Family vacationers from Germany rumble through in rented RVs and wonder at the bizarre emptiness. And somewhere down the road, the flats end in the Great Salt Lake and the city that this country's most successful homegrown religion built.
To capture this west, this enormous weirdness, you have to go beyond traditional means. You have to try to find some correlation between the human wildness playing out in the vastness and the vastness itself. What is the strange connection between where you are and what you are? Perhaps it's hiding in the magnetic fields or the wind, the infrared spectrum or the precise cyan of the sky.
Stay tuned for many more posts from and about Venue both here and at its home website v-e-n-u-e.com.